Deep in the Sauce
It's about sauce, food, & everything else.
| | | | |
| --- | --- | --- | --- |
| Cheese Stuffed Fatty Bread! | | | |
Written by Tom
Wednesday, 18 August 2010 16:46
Recently, I was trying to come up with something super cheesy that I could make on the smoker. This actually wasn't as easy as one would think it would be simply because, there are so many choices! Of course my wife came to the rescue when she put in a request for some sausage bread.
Now, I couldn't just let it go at that so, I decided to make it Cheese Stuffed Fatty Bread!
(For those who don't know, a "Fatty" is a breakfast sausage roll that has been smoked. It could be stuffed or not and could have a rub on it or not.)
First we had to start with the main star. The cheeses! I picked up 4 different kinds made at Burnett Dairy in Alpha, WI.
I then sliced up a half pound of each of the blocks.
Then came the sausage team.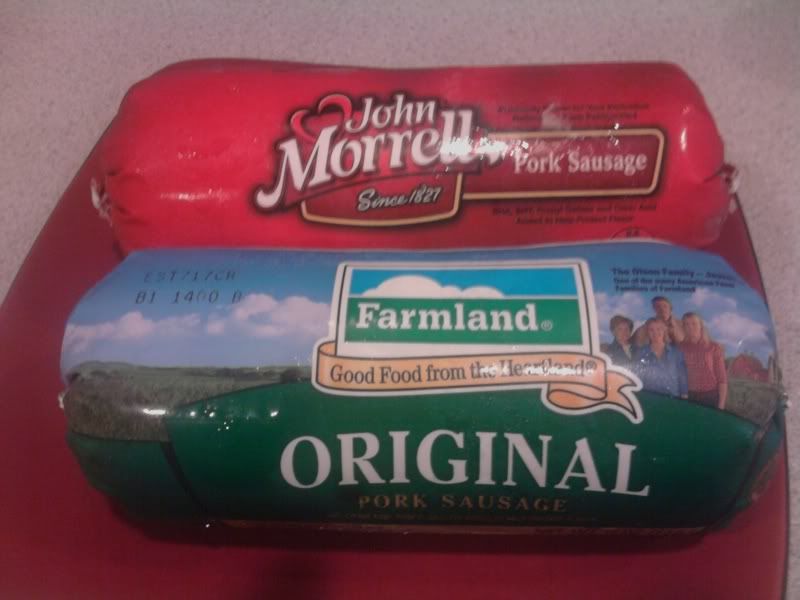 I combined both rolls and flattened them out in standard stuffed fatty prep.
Then came the cheese! Layers upon layers of it!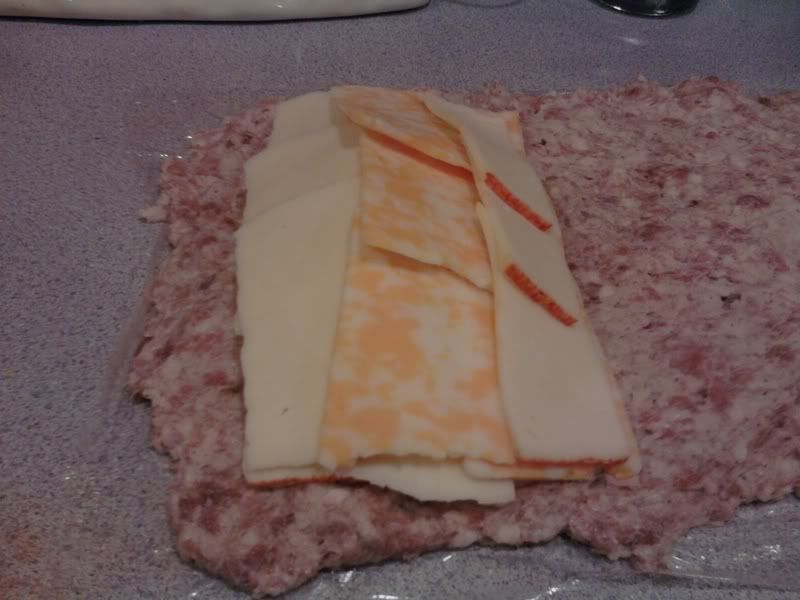 Time for the roll up.
Onto the UDS with thee! Did I mention it was dark out...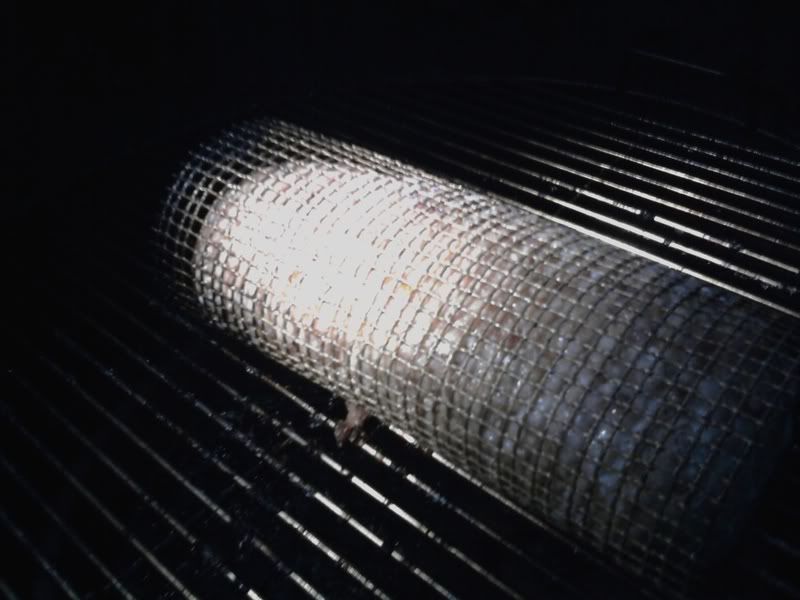 After the fatty was all smoked up, it went into the fridge to solidify a bit. Then it was pizza dough time! I used the following recipe for my pizza dough:
1 package of bread yest.
1 cup of warm water
2 cups flour
2 tsp sugar
1 tsp salt
2 Tbs olive oil
1 tsp rub

Add yeast to water, mix dry ingredients then add Olive oil followed by water/yeast mixture and mix until it forms a thick dough, cover with plastic and let rise for atleast 30 minutes. I find that if you plan on using the oven to cook it, you can set the bowl on the stove and that will help the dough rise while the oven preheats. After 30 minutes, take out the dough, knead it and beat it down, let rest for 15 minutes.
Then the roll out!
I then created a netting out of the mozzarella string cheese whips on the dough.
The fatty reappeared and joined the party.
Dough got wrapped around ensnaring the defenseless fatty in it's cheese net while cocooning it.
Now at this point, I would love to tell you that it went onto the grill to bake but, right at this point for some reason the heavens opened up and sent a downpour upon my lit grill. So, into the oven it went instead to cook at 450 until it was nice and brown.
All that was left was to slice this bad boy up! I don't think I could have contained the cheese even if I wanted to.
This was some pure cheesy goodness even my wife approved of this one but, be warned this is not for the faint of heart with 2lbs of Cheese, 2lbs of sausage, and 1lb of bread! For those who are really brave, I suggest topping a slice off with some BBQ Sauce and a fried egg for breakfast! Thanks for looking!