Deep in the Sauce
It's about sauce, food, & everything else.
| | | | |
| --- | --- | --- | --- |
| Product Review: ManGrates | | | |
Written by Tom
Friday, 04 March 2011 09:32
When someone asked me recently if I would give a product called ManGrate a try, I said sure! I mean, after all, who doesn't like to try out new products for the grill? I told them that if I like the product I would even right up a review on it. Normally, if I don't like a product, I don't bother with writing a review. The way I look at it, there are a lot of people trying to make it in today's economy and although their product might not appeal to me, it make be the most fantastic thing other people have ever seen. It's not up to me to ruin those potential customers for them. Now, all that being said, I think it's pretty obvious that my view of the product is positive or you wouldn't be reading this. But, let's not get ahead of ourselves.

I received my ManGrate package in the mail. The box was pretty and you could tell by the weight that there was definitely some heavy metal inside.


Inside were two ManGrates (Cast Iron Grates) and a ManGrate Wire Brush along with a explanation of proper use and care of your ManGrates.
Cast Iron has to be one of my favorite things on the planet and I have quite a bit of experience with it but, I decided to follow all of the ManGrate instructions when it came to seasoning them. Before I started I had a feeling that these would work best on a gas grill but, I don't normally cook on one so, I didn't use one. I fired up the Weber and placed the ManGrates on it directly over the coals. ManGrates are designed to go over your existing grating system and not as replacements. I placed them so they line up with the original grate as best as possible.
The grates were then sprayed down with some oil, WARNING! Spraying grates with oil while they are over a lit fire is very, very dangerous! That being said, I did it anyway and enjoyed dodging the fire ball that leapt out at me due to it. Once the grates were oiled, they were left to heat up and allow the oil to soak in.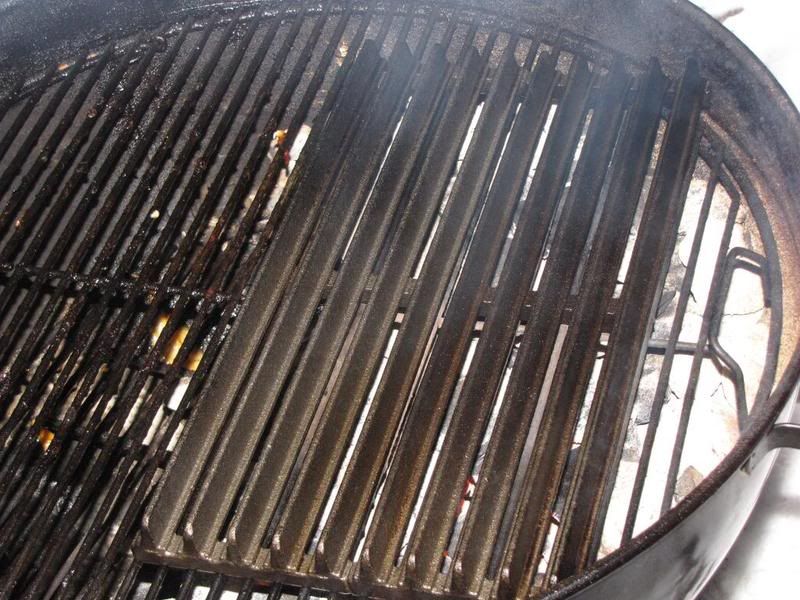 My thoughts for putting the ManGrates through their paces was to cook a variety of different meats on them but, when it comes to using Cast Iron Grates, I always put beef at the top of my list, so I started by throwing on a couple of small steaks.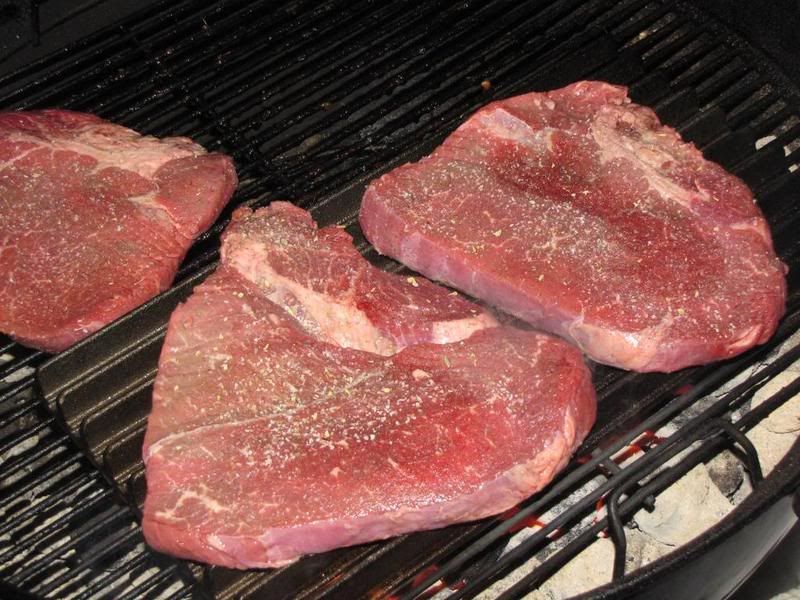 Theses steaks might have been a smidge larger than normal but, I was only able to fit two of them on the ManGrates.
After the first minute or two on the grates, I decided to rotate the steaks to get that classic diamond pattern on them. I must say, I was quite satisfied with the grill marks they put on in that initial short amount of time.
The steaks took on the nice diamond pattern very well and, after a few more minutes from being flipped, they were ready to come off the grill.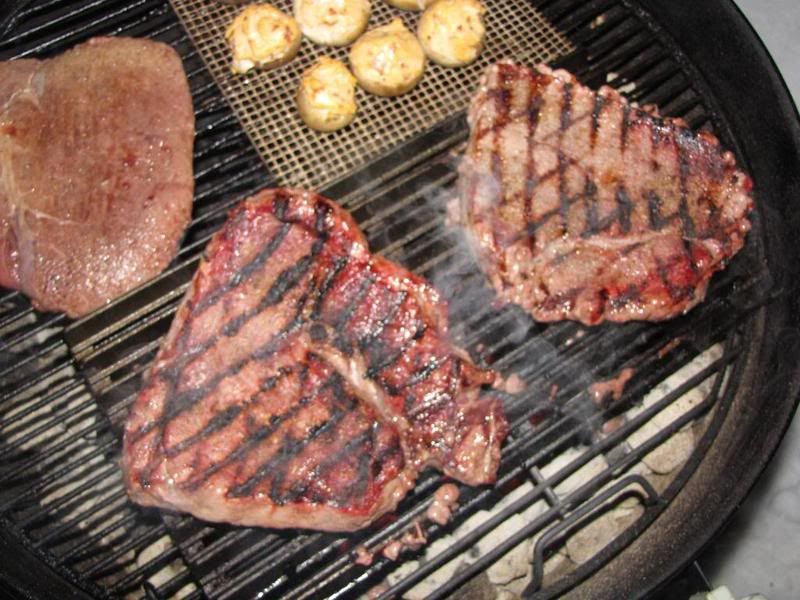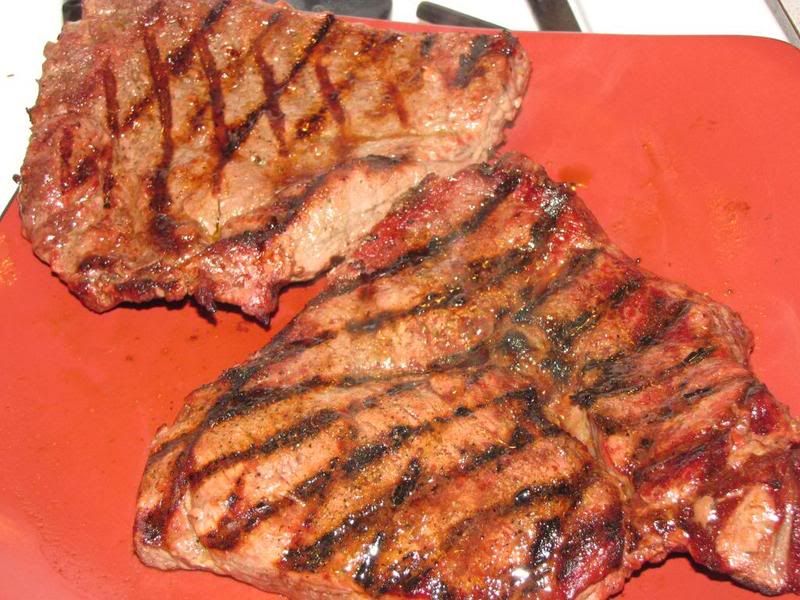 For the next test, I decided to go for an American classic, brats! The idea behind this one was simple, a side by side comparison to see which would do better: the wire grating or the ManGrates.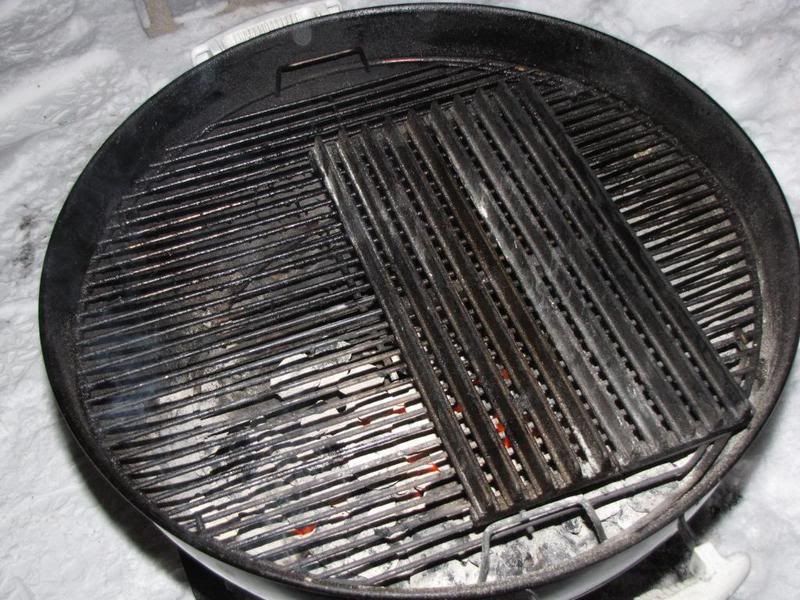 They were both oiled up with the same spray.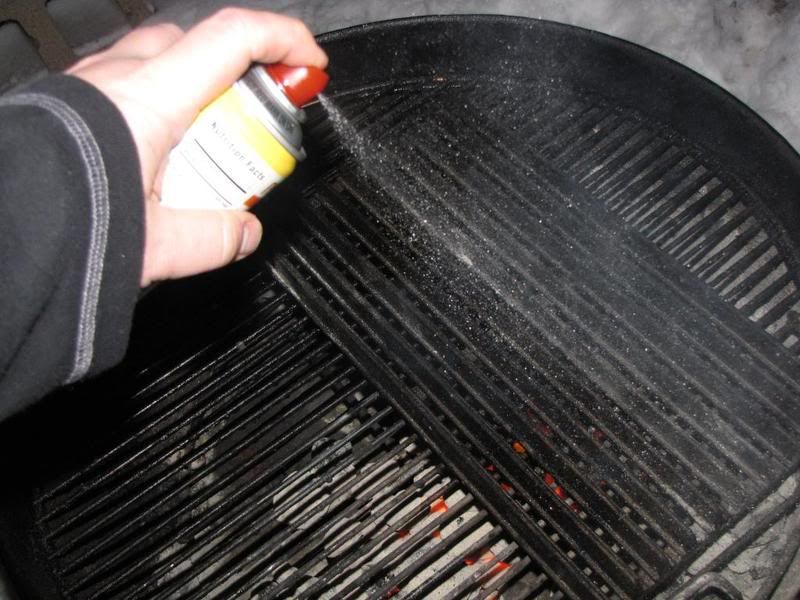 And, they were both then rubbed with a wire brush once hot.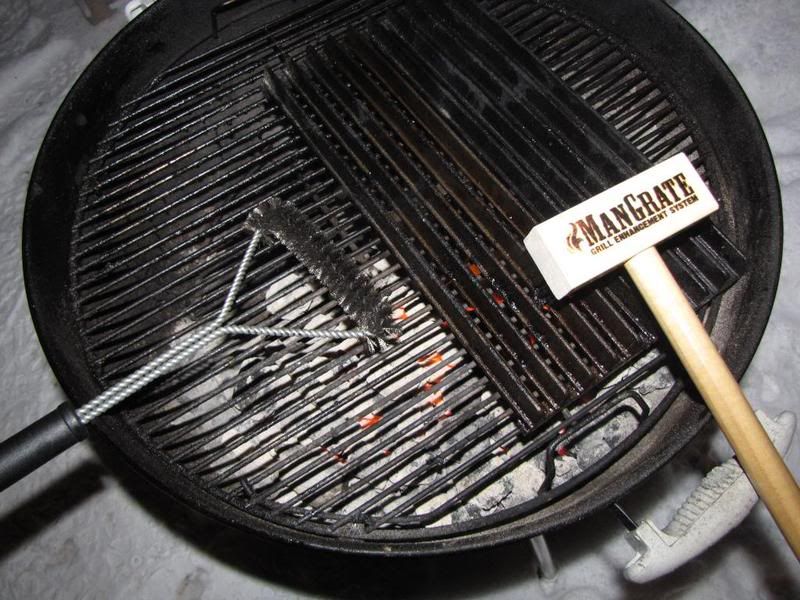 Then it was time to cook the brats!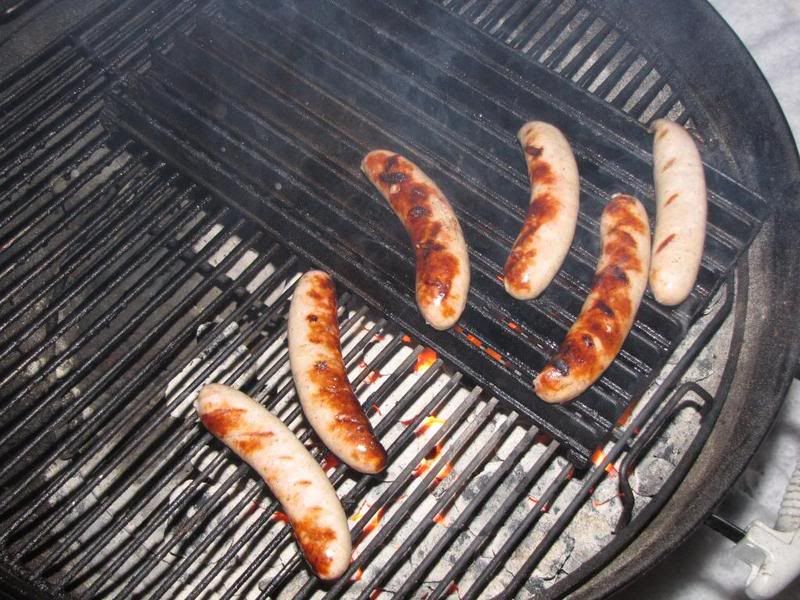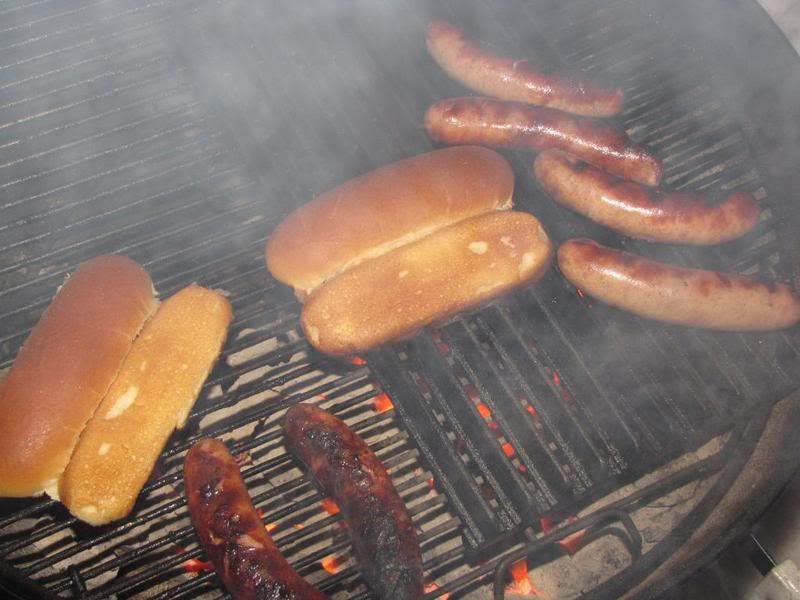 In the end, I cooked on both surfaces for an equal amount of time and found that I equally burnt the heck out of all of them. The only comment other than that is it did appear that the ManGrates did have less hot spots to them then the wire grating did. That could have been due to the ManGrates being set up to cross the wire grating or just due to poor charcoal placement on my part. But, I did find it interesting.
The next test involved something that is a lot more delicate and potentially far more frustrating, chicken breasts. Grilled chicken breast is delicious but, it loves to stick to grates and often dries out. This usually has more to do with not cooking it over high enough heat than anything else but, still it can be an issue. To add further insult to injury, the chicken was also marinaded, which usually means that they are even more prone to stick to grates.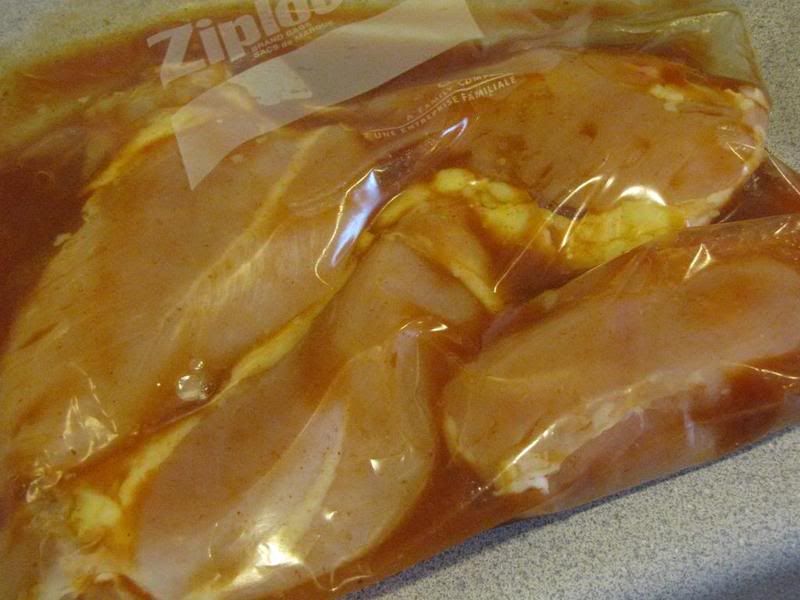 I set up the ManGrates this time to try to line up with the gaps in the wire grate. Sprayed them down with oil and then brushed them. This time there wasn't going to be a side by side comparison.
Once the ManGrates were nice and hot, on went the chicken.
Quarter turn after 2 minutes, then they were flipped.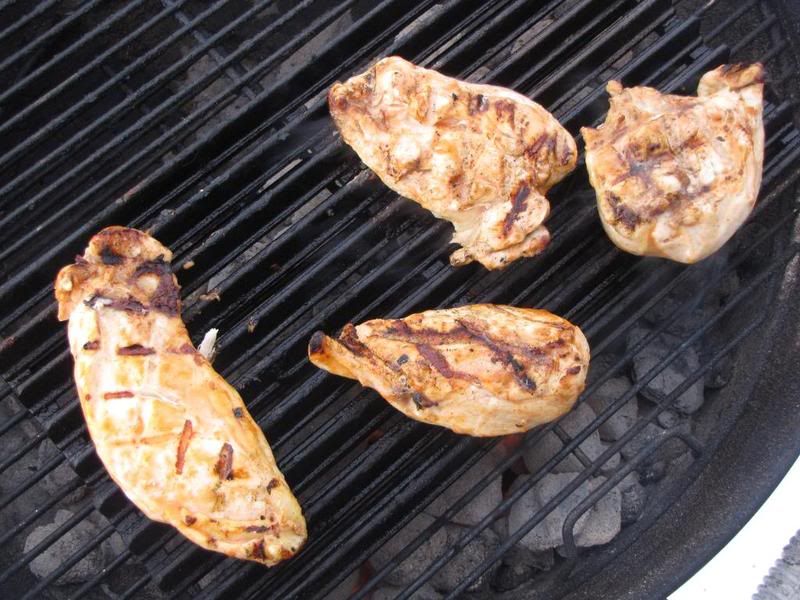 Another quarter turn and then off they came!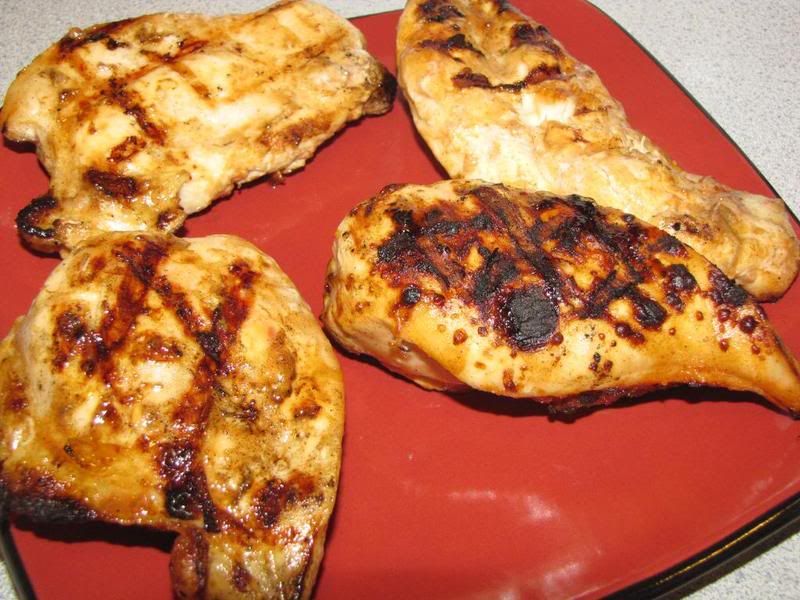 The chicken was very juicy and I used it to make some enchiladas. On this cook, I have to say that the ManGrates preformed very well. The chicken cooked quickly, there were few if any hot spots and the grill marks were excellent.
After the success with the chicken, I decided to put the ManGrates to the final test by cooking up some steaks once again but, to do another side by side comparison.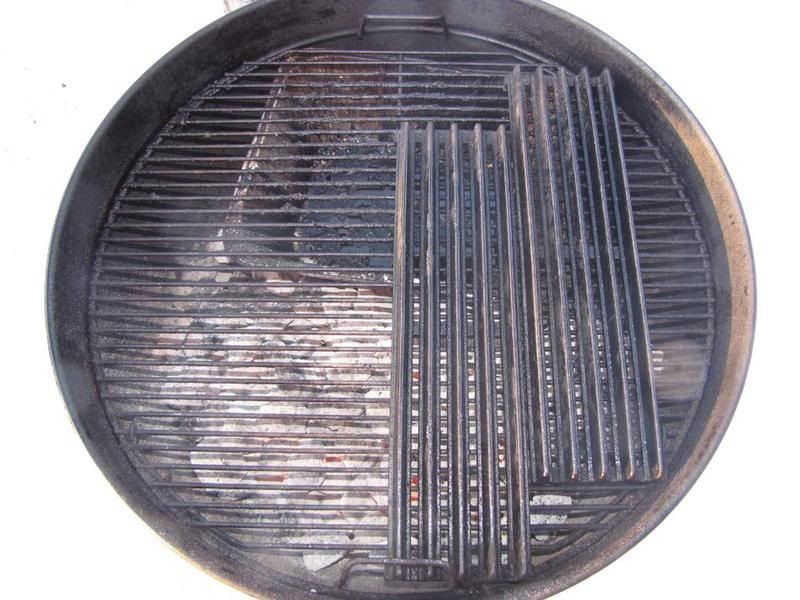 The two steaks that were closest in thickness were chosen to compete against one another. They both had similar rubs applied to them, the only difference being that the one on the right had a bit more pepper to it.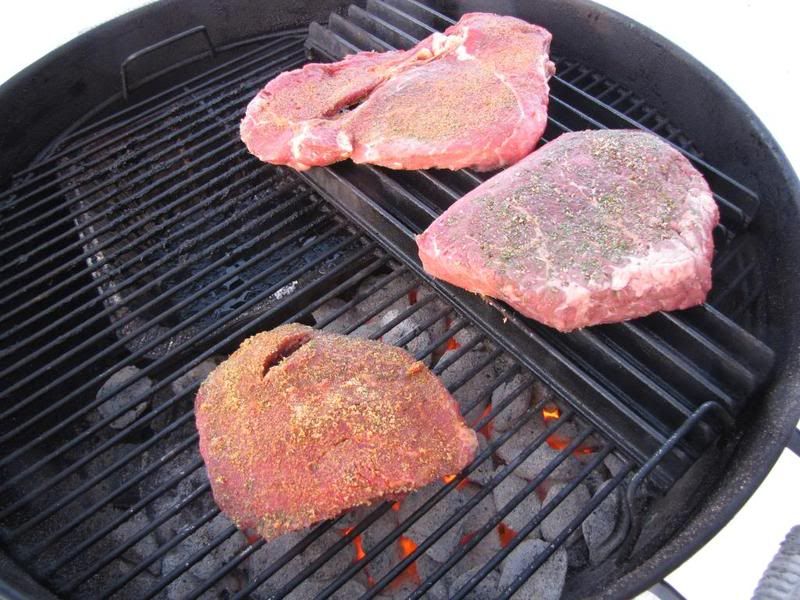 They were each turned at the same rate and flipped at the same rate.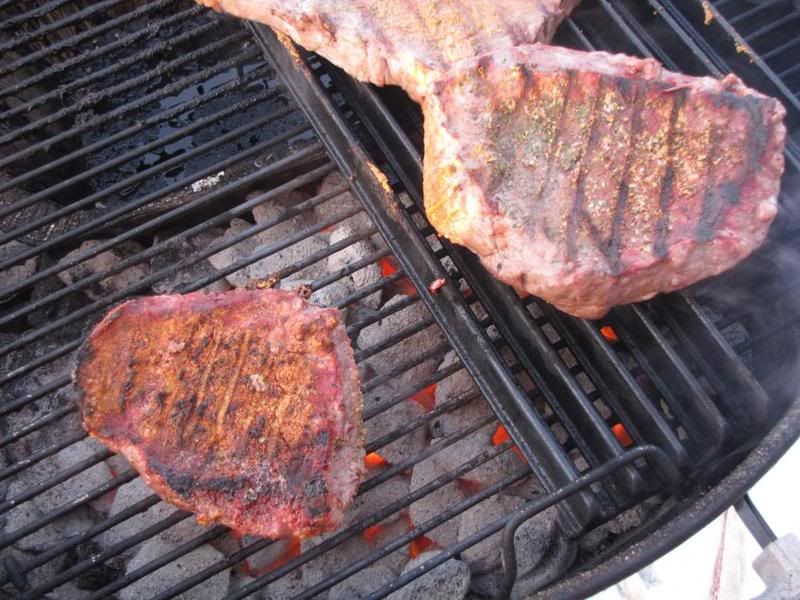 During the whole cook process, the one on the left would not acquire any grill marks while you can clearly see that the ManGrates one did.
I double checked my fire and found that it was even all the way across both sides and when I cut into the steaks they both appeared to have the same doneness.
For the conclusion of this cook I would have to say that the overall quality of both was the same but, the steak cooked on the ManGrates was much more appealing to look at and may have received a better overall sear.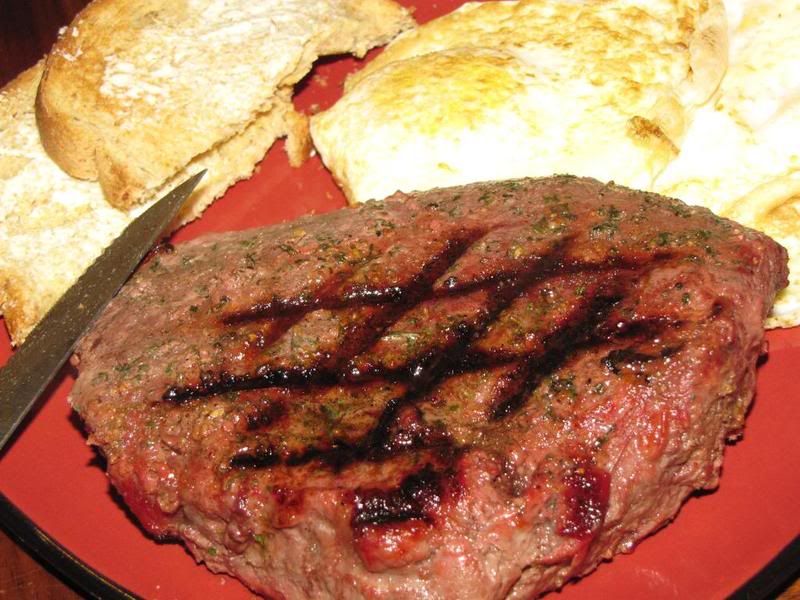 In the end, I would have to say that the ManGrates do excel over the traditional wire racks that most grills come with. Just look at this Porterhouse I recently cooked up on them.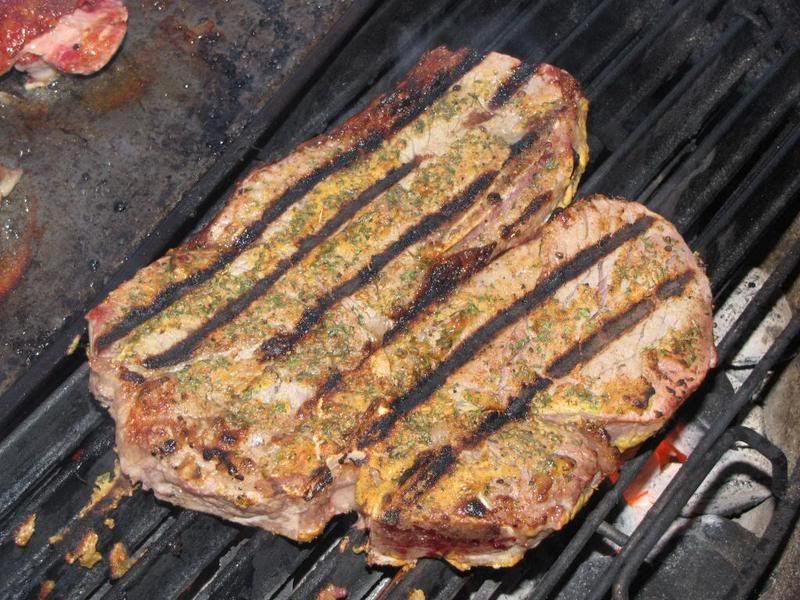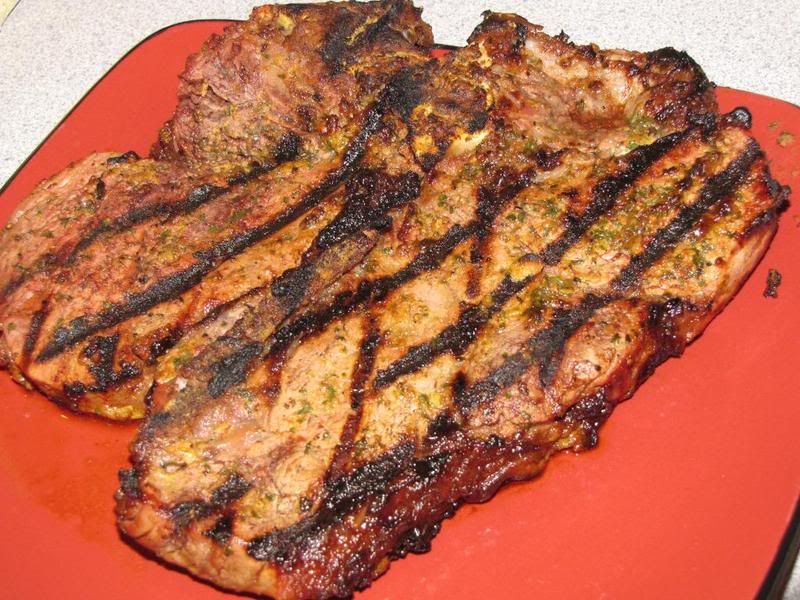 Cast Iron has to be one of the best surfaces ever to cook on. I think most would agree with that. But, Cast Iron is not cheap and ManGrates are no exception to this. They can be quite spendy. I believe the set I have retails for around $80.00. This alone would cause quite a few people to shy away from them. I got to thinking about it though and the price isn't that far out of line with most Cast Iron products of this same size. Truth be told though, the best thing to have would be full Cast Iron grates that are custom made to fit your grill and if you can afford it, I say go for it! But, ManGrates is a nice alternative for those who might not be able to afford full grating or have a cheap grill and can't afford a new one with nice cast iron or enamel grates. As a mainly charcoal user, I like the fact that I can move them around on my grill and help create different cooking zones. I am looking forward to having a full Cast Iron grate for my Weber some day but, until then these ManGrates will definitely do the trick.
Thanks for looking!
As a side note, for any who are looking at purchasing these, you can save $20.00 on a set of two by using the promo code ILIKEBIGBUTZ until the end of the month. This offer was put forth by the company after reading my article and has nothing to do with any sort of prior agreement or guarantee of endorsement of any kind.