Deep in the Sauce
It's about sauce, food, & everything else.
| | | | |
| --- | --- | --- | --- |
| Oktoberfest at Sand Creek Brewery | | | |
Written by Tom
Wednesday, 05 October 2011 13:13
This last weekend we went to Black River Falls, WI for the Oktoberfest party put on by Sand Creek Brewery. We hadn't done this even before but, we were familiar with the Sand Creek crew from the Chetek Rib and Brew fest. They asked us to come last year but, due to prior commitments, we weren't able to. This year, however, we made sure to clear our schedule in anticipation of going. When they envited us down this year, we were ready and super excited. Afterall, its Oktoberfest, at a brewery, in Wisconsin, how can it not rock?
As with every event that we do or go to, this one wasn't going to be exactly like ones we had done before. In the past we've done straight craft fair type sales where we mainly just sit in the booth and offer up pretzel dipping samples our our sauces and answer questions that people might have about the sauce along with selling the sauce. Or, we are cooking for a competition on one side of the booth while sampling and selling sauce out the other. For this one, we were going to be providing live cooking with food sampling using our new rubs/seasonings along with sauce sampling. This was the first event we had brought our rubs with to sell also. This ment that not only would we be fielding questions about the sauces but, the rubs, and possibly what we were cooking along with how we were cooking it as well.
Because of an early set up time, 8am, and a longer distance to drive, 3hrs, we decided to head down and stay over the night before. We stayed at the Days Inn in Black River Falls and we pretty much got there, went to bed, woke up, showered and left but, it worked out great. Very comfortable beds and friendly staff to deal with.  We also were able to park our truck near our room where we could keep an eye on it which was very nice. I actually slept facing the window. Call me paranoid but, that's how I am.
The next morning we got to the craft fair area and were ushered to our spot right away to get set up, which was good because, we forgot to boil the eggs for the Scotch Eggs before we left. It only took us about 30 minutes to get everything set up and chimney full of coals going with the eggs boiling in a pan over it.


As you can tell from our booth set up, the sauce selling would happen on the one side and all the cooking would take place on another. We weren't sure how soon people would be showing up. The craft fair was set to open at 9am but, everyone around us said people wouldn't show up until later. Either way we figured it would be best to get breakfast going as soon as possible. Scotch Eggs and a Fatty Stuffed with a mixture of Cream Cheese, Red Bell Pepper, and BBQ Sauce went onto the smoker for the first samples of the day.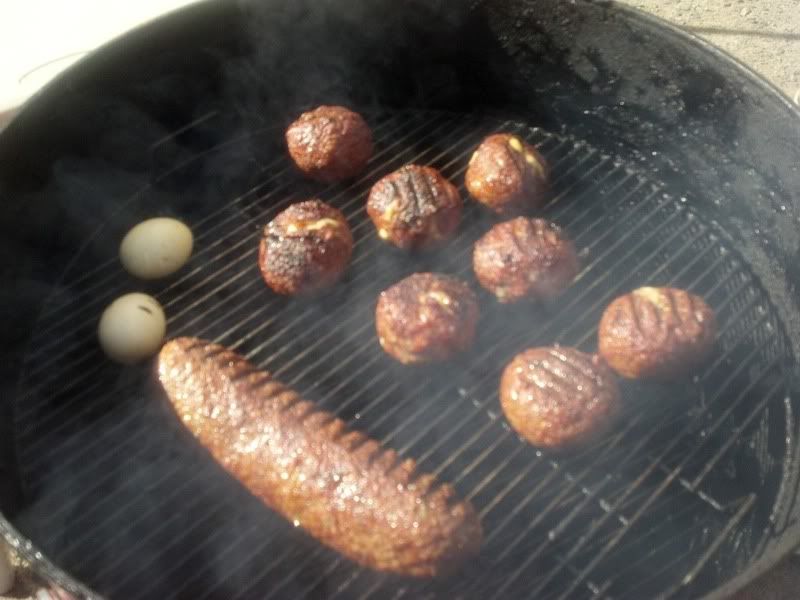 The rest of the day after this got a little hectic. People didn't really start showing up until around 10:30. But, when they did, we got pretty busy. The samples vanished within an hour and I struggled to keep a couple off to the side for the people at the brewery to have. The next round of samples was to be Shigen! but, when I opened up the cooler, I found that the chicken and shrimp were still frozen! I set them both out to thaw and trying not to panic too much, I put a couple of chicken breasts in a pan in the smoker to thaw out a bit faster. It did the trick. Withing about 10 minutes the chicken had thawed out enough where I could work with it. I cut the breasts into strips then cut the strips in half. The chunks were then tossed in a bowl with some Big Butz Chicken Dust until they were all coated. I then took a chunk of the meat and wrapped it with half a strip of bacon. Before I knew it, there were 20 of them on the smoker cooking away. They cooked up in hardly anytime at all and they were the next samples to go out. I dubbed them Big Butz Chicken Nuggets. Those samples seemed to vanish even faster than the eggs did. By now, there were quite a few people continually stopping by our booth to make sure they weren't missing out on each round of samples to go out. I figure out how much chicken we would need to make the Shigen!, set that off to the side and then cut up the rest for more Big Butz Chicken Nuggets. This time, we got a good 30 samples on the smoker. 30 minutes later they were ready to go and 10 minutes after that, they were all gone. After this round, I took a break to go check out the beer tent. I got there just in time to see the tapping of the Golden Keg. It was awesome and the beer tasted fantastic! Back to the booth I went with a beer in hand to work on the next round of samples, Shigen! By this time the Oktoberfest was in full swing, people were enjoying the beer, talking up a storm and buying up all of the rubs!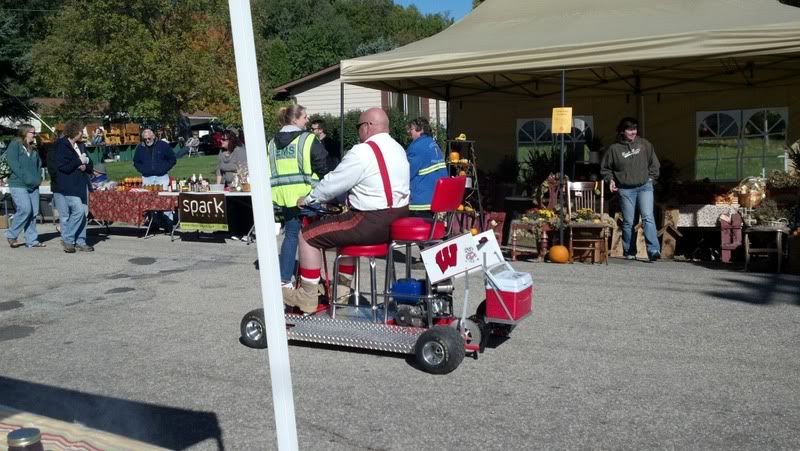 Some of the Sand Creek people came around to talk while I was working on the Shigen! They are some of the nicest and most gracious people you will ever meet. When the Shigen! came off the smoker people were already lined up to get one. We only had 30 samples to go out and in 5 minutes, they were gone. I took the leftover scraps of chicken and bacon that we had and threw them on the smoker to cook up for a few extra samples. Those came off and the smoker got shut down for the rest of the day. Just enough time for it to cool down by the end of the craft fair so we could get it packed up. We sold out of all the Chicken Dust and Pig Pollen. People loved the sauces and we went through quite a few jars. When it came to the Cow Pow, we came back home with only 2 packets! All and all, I would have to say it was a great event for our products. For me personally though, it was an awesome time! The beer was fantastic, the people were beyond great, and just before we headed home a Celtic band came on stage to play.
A big thanks goes out to Jim and the rest of the gang at Sand Creek Brewery. They all rock and we look forward to getting back down to Black River Falls in the furture.