Deep in the Sauce
It's about sauce, food, & everything else.
Written by Tom
It was the first game of playoffs last weekend and I decided to make up some wings for the big game, the only problem was I only had about an hour to have them made and be out the door headed to a party.
The first rule is: Don't panic.
I assessed the situation and realized that I was looking at a speedthaw in the microwave followed by an oven cooking only situation. I could have fried them but, the last thing you want before heading out the door to a party is to leave a lot of dishes behind.
I also realized that I might be a big fan of all things spicy but, not everyone at the party would be. That meant there needed to be 2 types. No problem.
Here is the rundown on what was all involved.
6 lbs of Chicken Wing Sections
2 Tbs Big Butz Chicken Dust
2 Tbs Big Butz Gettin' Roasted
4 Tbs Olive Oil
1/2 Stick of Margarine (or Butter)
1/2 cup of Big Butz "No Butz" BBQ Sauce
First thing was to start speed thawing the wings in the microwave and set the oven to 375 degrees. Now, during this time, I got to thinking, what's wings without some sort of dip for them? It takes awhile for the speed thaw to work it's magic so, after I chopped up a bunch of some stuff for a veggie tray, I got to making up a quck dip for the wings. If this one was any easier, it would have been criminal combine the following ingredients in a bowl until it resemebles bleu cheese dressing or is smooth:
12 oz Lite Sour Cream.
1/2 Block of Neufchatel Cheese
1 Tbs Big Butz Cow Pow
Once the chicken was thawed. Each bag was tossed into a bowl with 2 Tbs of Olive Oil and a Tbs of Chicken Dust. They were then layed out on a sheet and put into the oven to bake for 20 minutes. After 20 minutes, the mild batch was sprinkled with Gettin' Roasted and put back in the oven. Then in a bowl, the "No Butz" was combined with the margarine. This mixture had to be microwaved for 1 minute to fully mealt the margarine. Once this was all mixed together smoothly, the other wings were taken out of the oven, tossed in this mixture and placed back on the pan to for the coating to set in nicely. After a total of about 30-32 minutes, or however long it takes for the plain wings to get a nice golden brown look to them, they are ready to go. In my case, I wanted to be able to keep the wings warm but, didn't want to have to bring more than one crock pot. Our magical friend, Tin Foil came to the rescue. I took a sheet twice as long as the crock pot, folded it in half, and then a made a bowl that would fit into each side of the crockpot, set it inside, and then added the wings.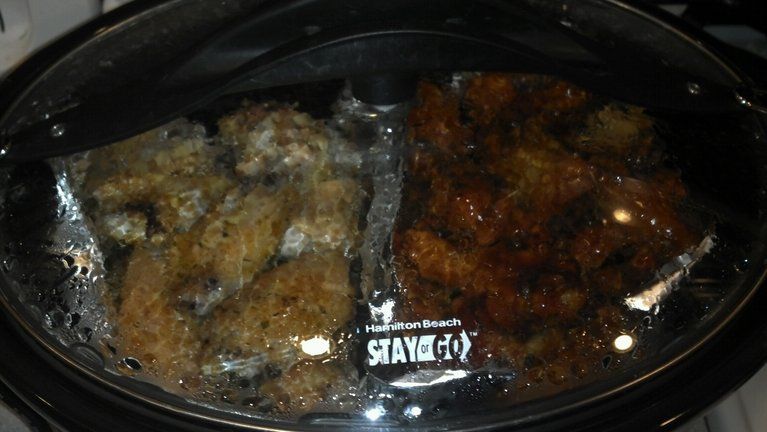 These wings were a hit at the party and the dip that went with them complimented both the hot and the mild wings.
Written by Tom
I like brussel sprouts! Yes, I admit it. However, the rest of my family does not. Every once in awhile I take a stab at sneaking some in on my family in the hopes that I will be able to convert one of them to my side. When I was at the grocery store the other day, it just so happened that brussel sprouts were on sale. It also happened that breakfast sausage was on sale. That was enough to trigger a devious plan for a new presentation of brussel sprouts that would well with Halloween coming up. I.E. the trick part of trick or treat.
Now, I'm a huge fan of scotch Eggs so, you can imagine what is about to come next.
Some got dusted with Pig Pollen, some with Chicken Dust.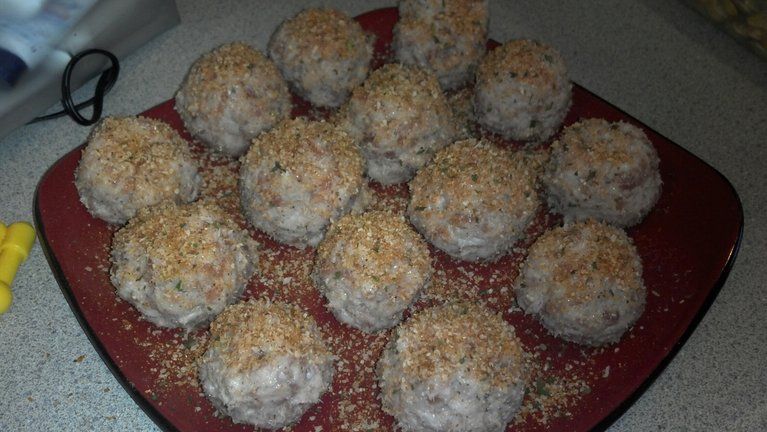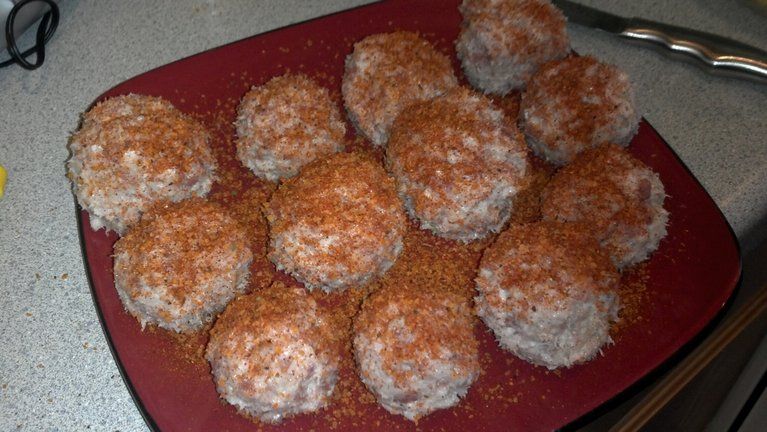 Then onto the UDS they went, cruising at 250 for about an hour and 30. The sausage was cooked well before then but, I wanted the sprouts to soften up and that's why I ran it a bit longer.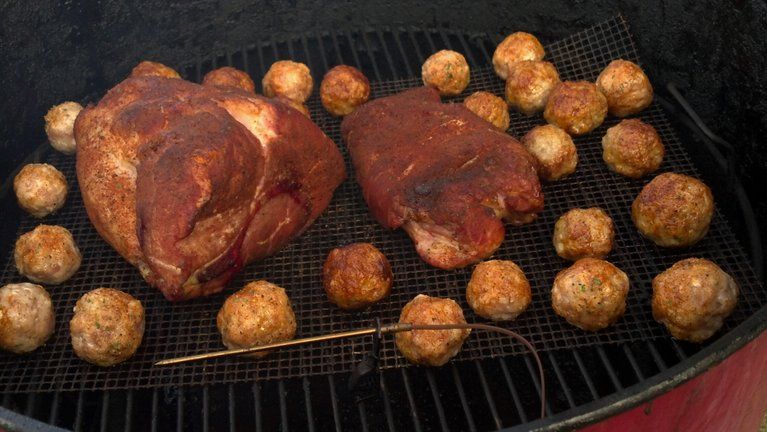 They looked really darn good when they came off, almost like regular meatballs. In fact, everyone in my house thought they were.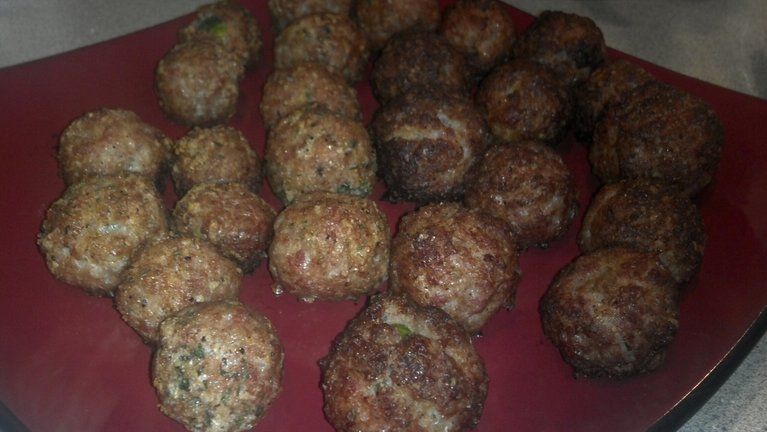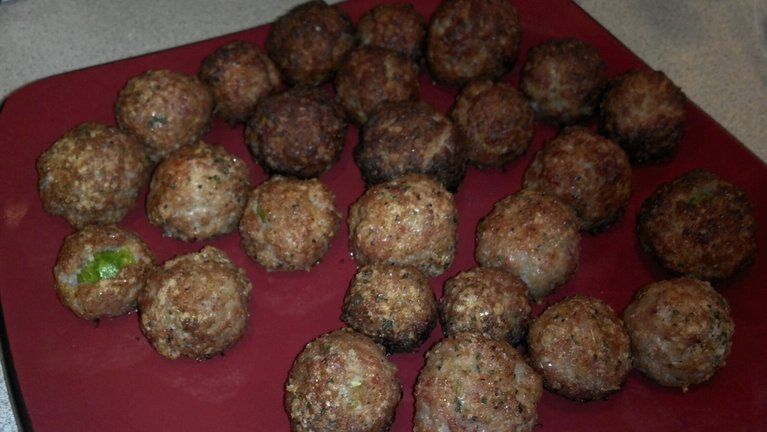 All that was left was to give them a taste...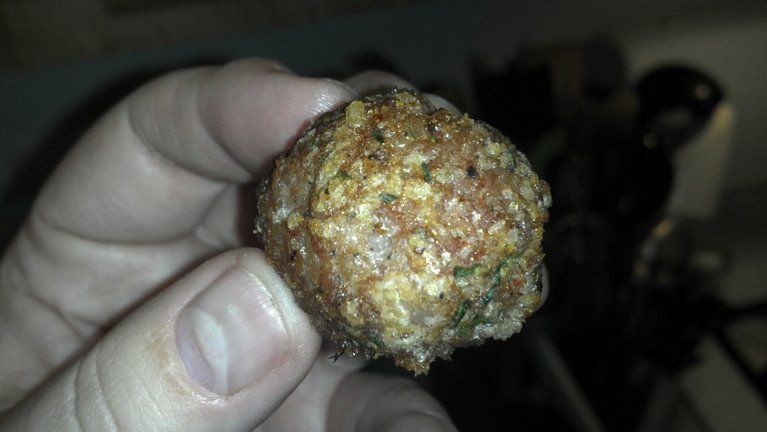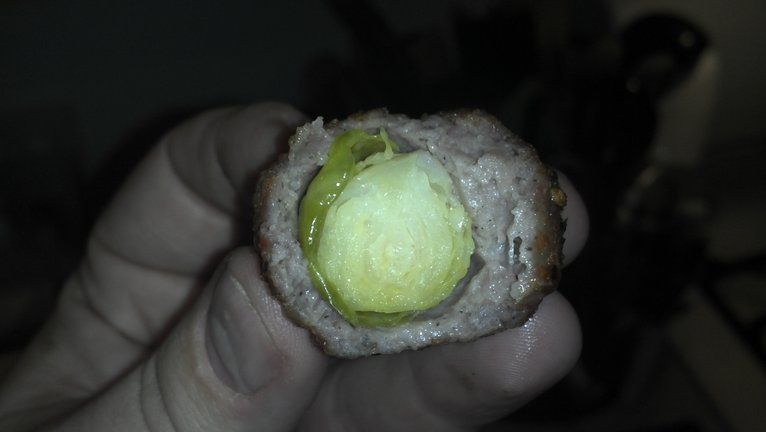 Holy cow! Darn good! I like the Pig Pollen ones the most but, both remind me of smoke pastrami and cabbage. Great flavor combo! My oldest daughter tried one and said they kind of reminded her of eggrolls. She had 3 and that's only because I stopped her from having more.
Theses are definitely going to be one of the Tricks I bring to any Halloween party that I go to this year!
I know it's been awhile since I posted so, thanks for looking.
<<

Start

<

Prev

1

2 3 4 5 6 7 8 9 10 Next > End >>


Page 1 of 46