Deep in the Sauce
It's about sauce, food, & everything else.
Written by Tom
Yep, this post is late, as is the trend for me. The cook occurred on time but, finding time to post was a different story. Paul at NoExcuses made up some killer looking red beans and rice. This ended up working out pretty good for me. Recently, me and my wife have been trying to cut back on wheat products. That means we've been eating alot of rice, grains, beans, and potatoes for sides or starches. This being said, I obviously opted for the Brown Rice ingredient.
Since I do some of my best work in breakfast, I decided to go with a Scotch Breakfast Loaf and a creamy of mushroom brown rice risotto.
First the loaf: 2 lbs. Ground Pork, 4 Strips of Bacon (cooked), 6 Eggs, and some shredded cheese were the main components. The sausage was mixed with 1/2 cup bread crumbs, 1 Tbs Cow Pow, 1 egg, and 1/4 cup Cranberry BBQ Sauce.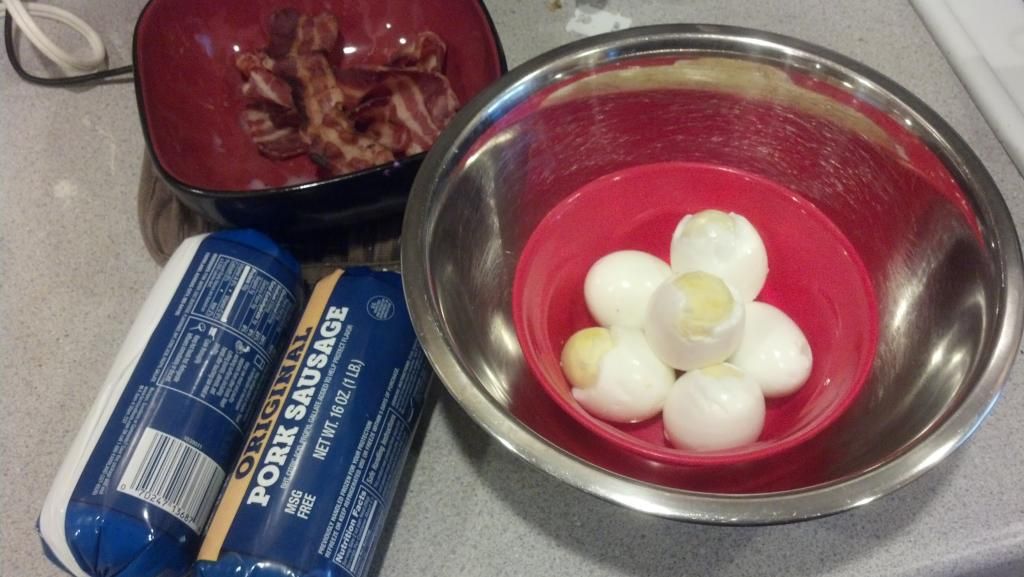 The bacon was chopped up. Then it was time to build the loaf. Half the sausage mixture went into the loaf pan and was pressed out flat. Then came 1/4 cup of shredded cheese, 6 hard boiled eggs, and the bacon.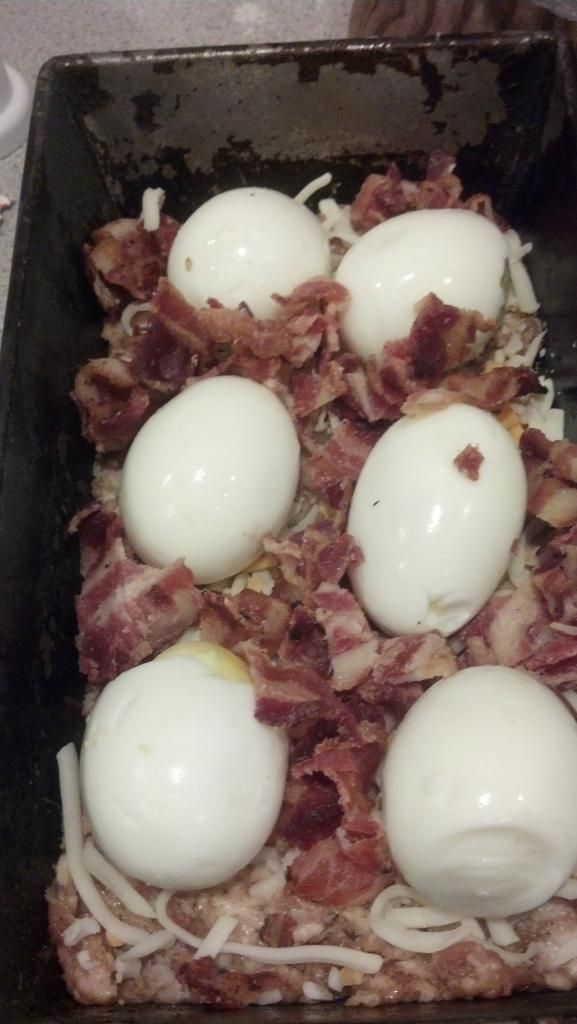 Top it off with the rest of the sausage mixture, top it with some Pig Pollen, and onto the grill it went to cook indirectly.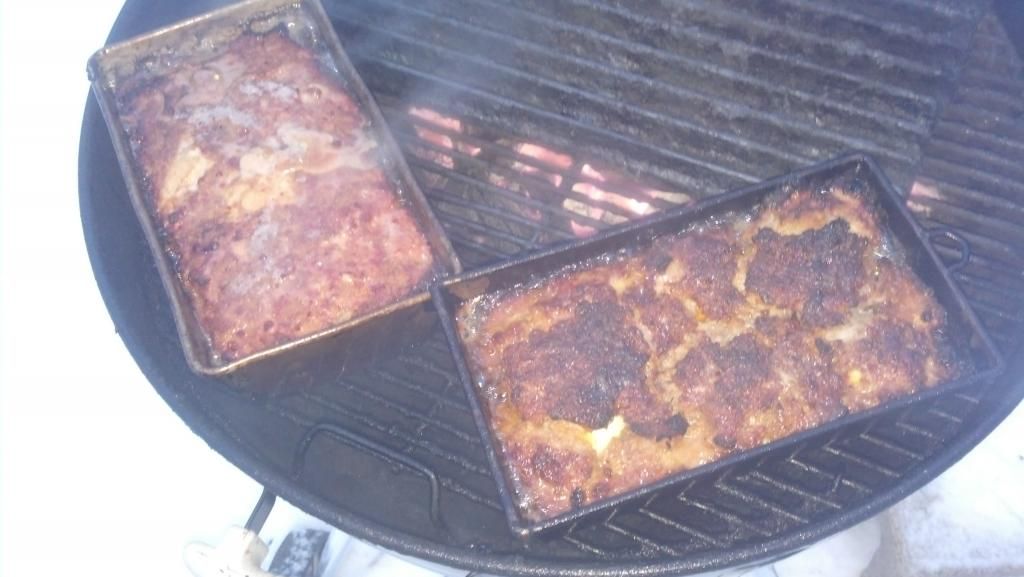 Unfortunately, a snow storm really kicked up and caused the grill to get rocket hot and I was forced to pull the loaf off early and finish it off the rest of the way in the oven. As you can tell, because it cooked too fast, the sausage pulled away in some places on the top.
For the risotto, it was cooked following the standard directions for the rice and then Cream of Mushroom was added along with milk to obtain the right consistancy halfway through the cook process. It turned out spectacular.
All that was left was to plate it all up!
This is good but, eggs are always better with hot sauce. I used Napalm to give it the right kick.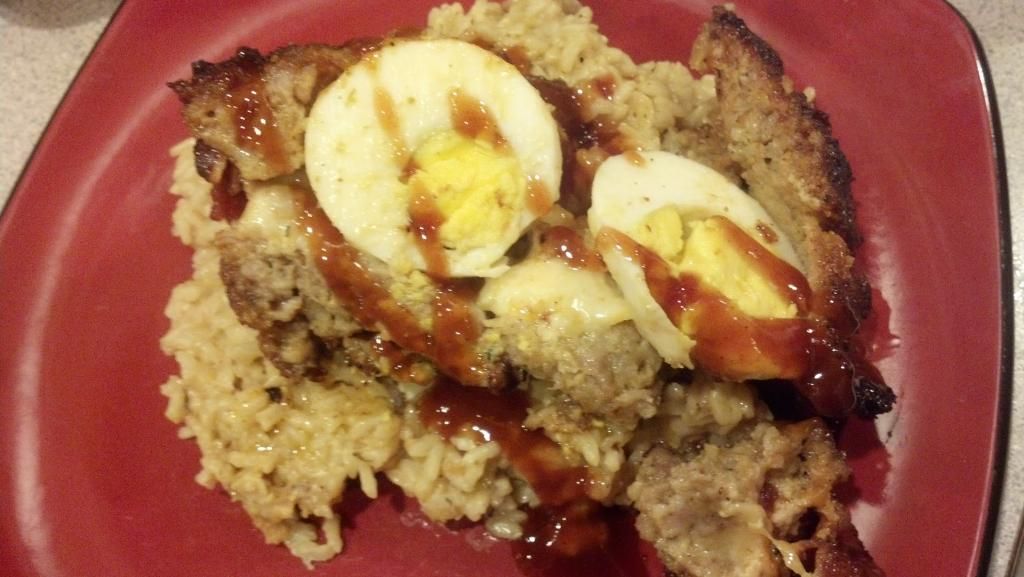 OMFG! This was ridiculously fantastic! Even my wife raved about how awesome it was. The risotto blend almost added a "Biscuits and gravy" like flavor to the whole mix. It all paired so well that I had it for breakfast the next day.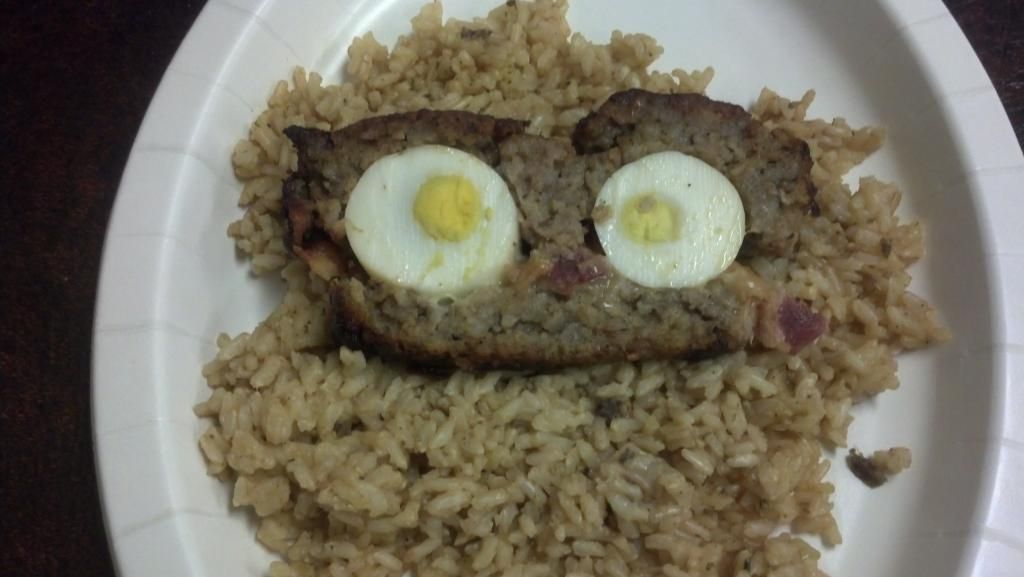 I haven't had the chance to experiment with something like this in awhile and I was absolutley please with it.
Thanks for looking!
Written by Tom
It's about a week late but, I got disctracted with shiny things. Paul at NoExcuses made some fantastic tater skins. I decided to take that Chicken Thigh ingredient as the one that I would use for my cook.
I really wanted to do something super creative and innovative for this cook. I decided to go with Grilled Chicken Chili! Okay, it might not sound very creative or innovative but, it's what I went with.
The chicken thighs were boneless and skinless. I dusted them down with Pig Pollen and some Dark Chili Powder. I decided to cook them directly because, I was hoping for a nice roasted pepper taste to ring through due to the adding of the chili powder to the mix.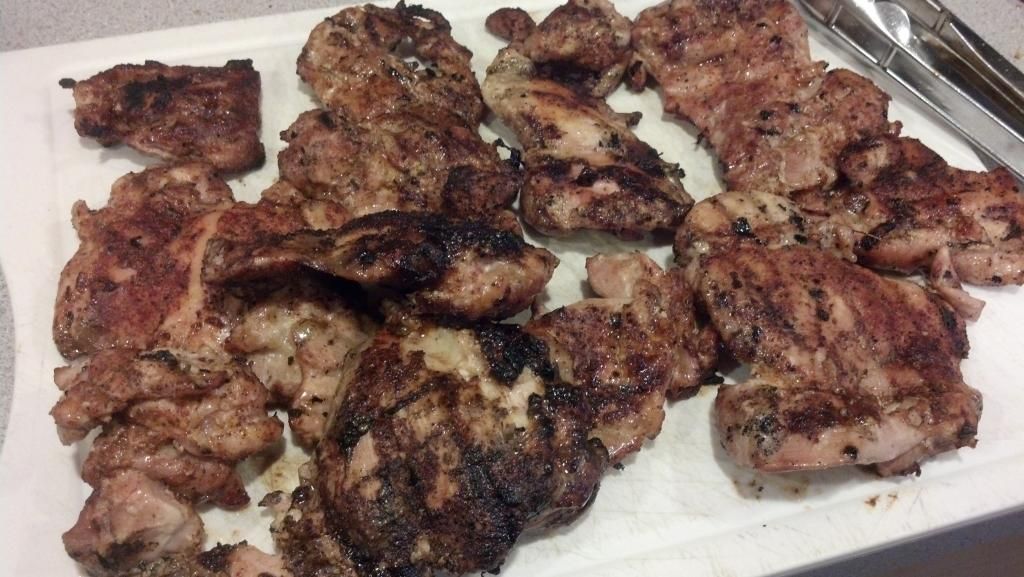 From there the other 3 ingredients joined the party; Red Kidney Beans (1 can light and 1 can dark), Petite Diced Tomatoes (1 Can), and Condensed Tomato Soup (1 Can). In addition I through in some more chili powder, Kosher Salt, Pig Pollen, and about 2 cups of water to get it to the consistency and flavor I wanted. I then let it slow cook on the stove for about 30 minutes.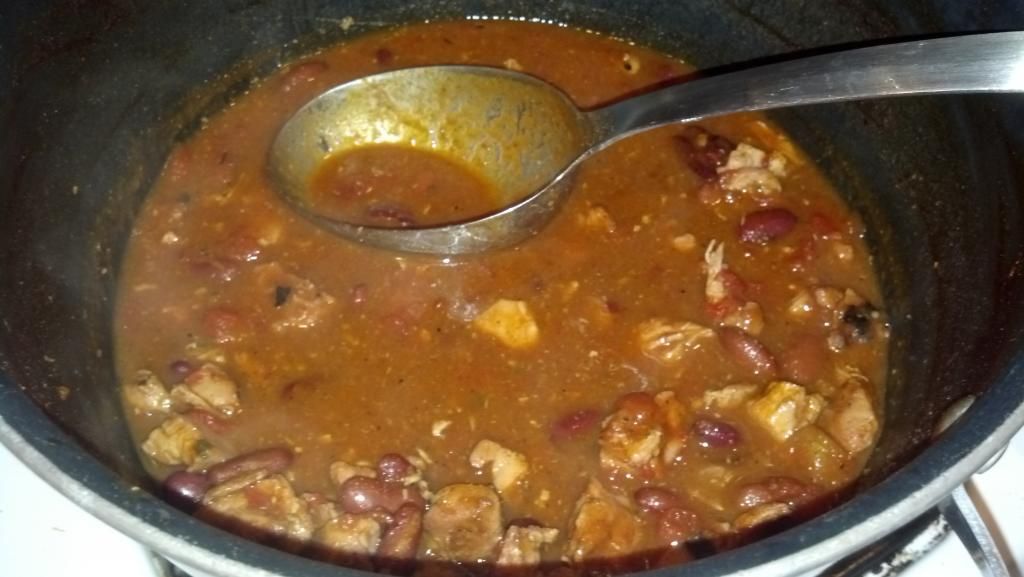 All that was left was to serve it up with some shredded cheese.
I wouldn't say that this was "chili" in the classic sence. The roasted pepper flavor and grill flavor came through on the chicken and it made this one fantastic chili like dish. The family gave a rave of approval and licked their bowls clean. I'll definitely remember this recipe for in the future.
Thanks for looking!
<<

Start

<

Prev

1

2 3 4 5 6 7 8 9 10 Next > End >>


Page 1 of 50