Deep in the Sauce
It's about sauce, food, & everything else.
Written by Tom
I promised chicken and I will deliver! Actually my wife delivered. I was running around with getting orders shipped out and deliveries made for most of the day and when it came time to start dinner, I was still out on the road. We still had some wild asparagus in the fridge. So, when I came home I offered to cook it up while my wife handled chicken duty. It got tossed in a baggy along with grape seed oil, olive oil, lime juice, kosher salt, minced garlic, and chili powder. Right before the chicken was ready to come off, the asparagus went on.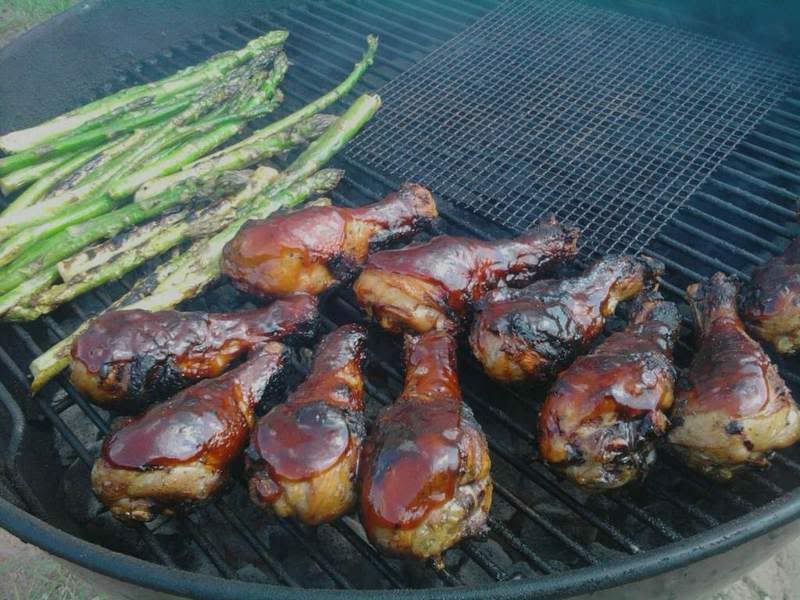 After a few more minutes the chicken came off and then it was time to dish up!
Even though the chicken and asparagus recieved a rathere heavy char, I must say, it was very tasty! The family ate it up and wanted even more!
After dinner it was time to mix up a batch of sauce and then off to the first Softball Game of the season for the Big Butz Women.
It was great fun! No victories yet but, the season is still young. It sure is a thrill to see them all head out to the field in those sharp looking team shirts.
As far as the competition front. The big victory for today was getting all the meat ordered. I should have probably done this last week but, I got side tracked. Should have some great stuff to work with for the competition though. Tomorrow we will be bottling up a batch of Cranberry BBQ Sauce and I have got to get the rubs mixed up. The next few days should be a true test of patience. The plan is to just get everything in order and pace ourselves. I know at times it's going to feel like things are going in slow motion and then in the next second that their being fast forwarded.  Being methodical is the key though. Take the time and make sure everything we need is packed up and ready to go.
Written by Tom
It's less than a week away! It really dawned on me today. The scary part of it was realizing how much I still needed to get gathered together. Luckily, my mom came to the rescue when she called up today and said she was at a store we had planned on needing to pick up stuff from. She went ahead and picked up the stuff for us and now it is one less thought that is on my mind. Stuff you need like wash tubs, tarps, zip ties, batteries, extra large ziploc bags, etc. etc..  This took quite a bit off of my mind but, there is still plenty that needs to be done. For me today, it was about picking up a bunch of the mixings I would need for my Rubs, Injections, and brines. I still have quite a bit to get but, looks like tomorrow night I'll be getting the rubs ready. We've got two tubs to keep all of our supplies in and I've already started filling up the first one.
One of the things I've started to get together is all of my thermometers. Tonight I did a boil test on all of the ones I plan on using to get them all properly calibrated. Found out my remote one was 30 degrees lower than it should be, that explains a couple of things. For the most part, the other ones just needed some minor tweeks. The odd thing about theremometers though, when it comes to BBQ, they are just there for the time between when it's cooking and when it's done. Because, when it's done, it's done. Most old time BBQers won't even use thermometers when cooking. For us paranoid, control freak, types, we want to know every little bit of info about what we are cooking, constantly, thermometers are a must. And, for those times when you want to know how the meat is doing but, know you can't lift the lid or you will lose heat, remote theremometers are a total must.
Don't worrry, I know this blog gets full of words with these day to day postings but, I'll be doing some Chicken legs for dinner on the smoker tomorrow. I used to absolutely despise chicken but, now I've gotten to the point where I look forward to cooking it so I can attempt to master it more and more.  So expect to see some pics of chicken and maybe even some shots of the rub mixing process.
<< Start < Prev 11 12 13 14 15 16 17 18 19

20

Next > End >>


Page 20 of 46