Deep in the Sauce
It's about sauce, food, & everything else.
Written by Tom
For Valentine's day I decided to make the most romantic food of all, Tacos!


Okay, they might not be the most romantic food but, that's what my wife and daughters wanted. And, I can't say no to a request from my adoring fans/family/overseers.

Anyways, I love to eat tacos but, find the prep work can be a pain and there always seems to be a ton of leftovers. Leftovers from tacos usually results in nachos one day, possibly more tacos, and then some sort of strange creation usually involving eggs. This time though, I figured I should try something different. Jalapeno Poppers, or ABTs (Atomic Buffalo Turds) as some call them, seemed like a good solution. Me and ABTs have not had the best relationship in the past. It always seems like either my meat to cheese ratios have been off or the meat just didn't add enough to them. The best luck I've had was using pork sausage. Taking a hint from that, I decided that taco meat wouldn't be a bad idea. This is the recipe that I ended up using.

1/2 block Cream Cheese
1/4 cup Grated "Mexican" blend cheese
4 Tbs taco meat
2 Tbs BBQ Sauce
6 Jalapenos cored and halved (could fill about 6 more with stuffing)
12 strips of bacon (1 per each half of course.)
The filling is mixed and then a teaspoon is dropped into each Jalapeno half which is then wrapped up in a strip of bacon. They can be cooked on a smoker or inderectly on your grill. Cook until the bacon appears to be crispy. There may be some cheese that oozes out.
I must say that these were some of the best ABTs I've ever made. My lunches for the week rocked not only because I still had enough fixings for leftover tacos but, I had ABTs with them.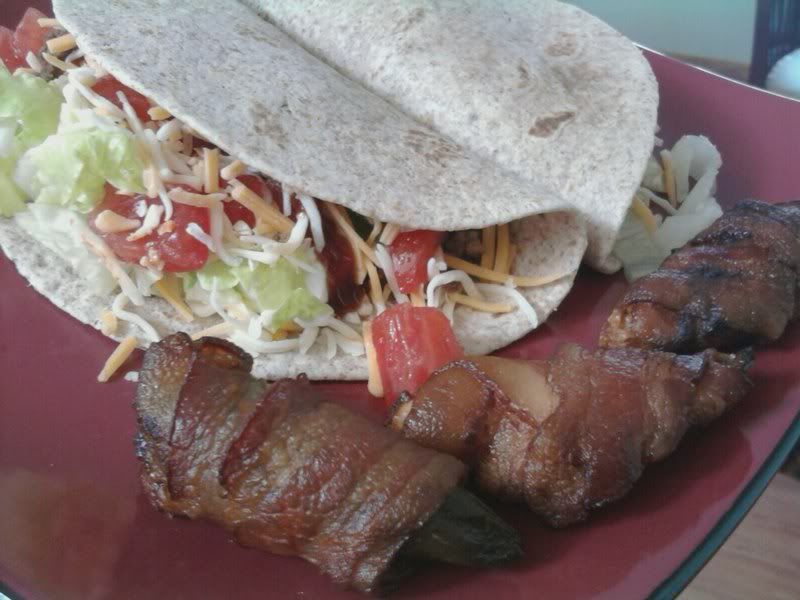 I apologize for lack of cook picks on these but, sometimes the camera gets forgotten about.
Thanks for looking!
Written by Tom
One night, under a star lit sky, two lovers from two different worlds got together and created something beautiful! The lovers were Pulled Pork from it's meat centered universe and Baked Beans from there starchy legume world. Together the created BBQ Beans!
Ok, truth is, I am not the first person to do something like this. It's actually common practice in the BBQ World to add Pulled Pork or Brisket to baked beans. This was the first time that I had attempted to do this before. Truthfully, I wasn't entirely sure where I was going with these and ended up mainly winging it. I have to say though, I was pleasantly surprised by the results!
It started with some minced onion, celery hearts, and garlic being tossed into a pan with a bit of olive oil over low heat.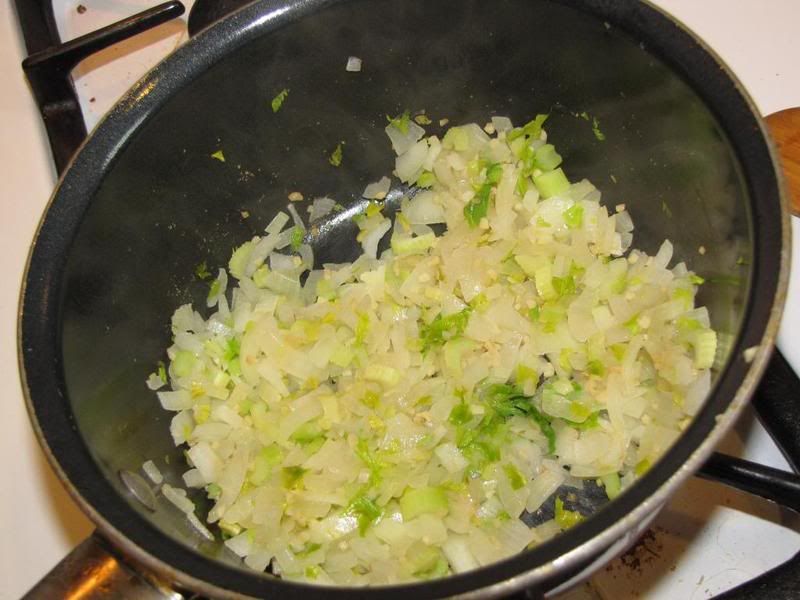 When the veggies began to sweat and the smell from them got stronger, I added 6 strips of low sodium bacon that I sliced up.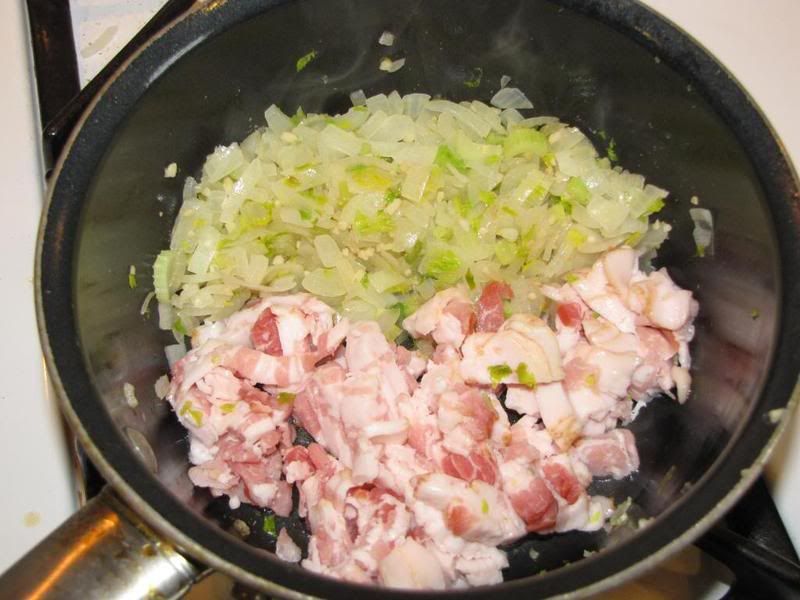 This continued to cook over low heat until the bacon was cooked through. I then took 1/2lb of unsauced pulled pork and chopped it up then threw it in with the rest.
This cooked for about 5-10 minutes, until I could tell that the pork had warmed up nicely then I added the following ingredients:
2 cups Orange Tropical Blend Juicy Juice
1/4 cup brown sugar
1/4 cup sugar
1/3 cup Basalmic Vinegar
2 Tbs Kosher Salt
1 tsp Black Pepper
1 tsp Chili Powder
1/2 tsp Cummin
1 piece of candied ginger, minced
This was left on medium low heat to simmer for 15 minutes until the mixture had nicely darkened.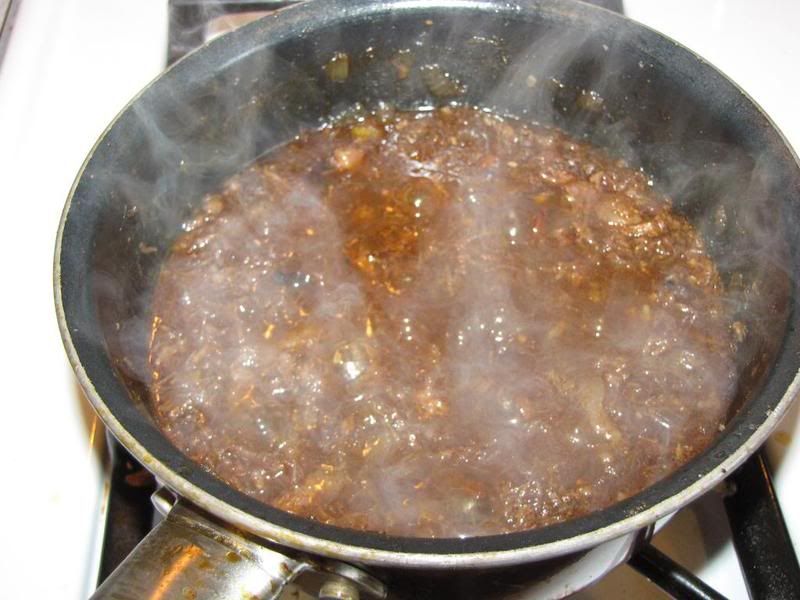 Then out came the beans!
I went with the light and dark kidney beans, the pinto beans, and blackeye peas for this cook. After reading the can of Chili Beans I decided that they were not what I was looking for so, I left them out. The beans and the mixture I had cooked up were dumped into a crock pot and were put on High Heat.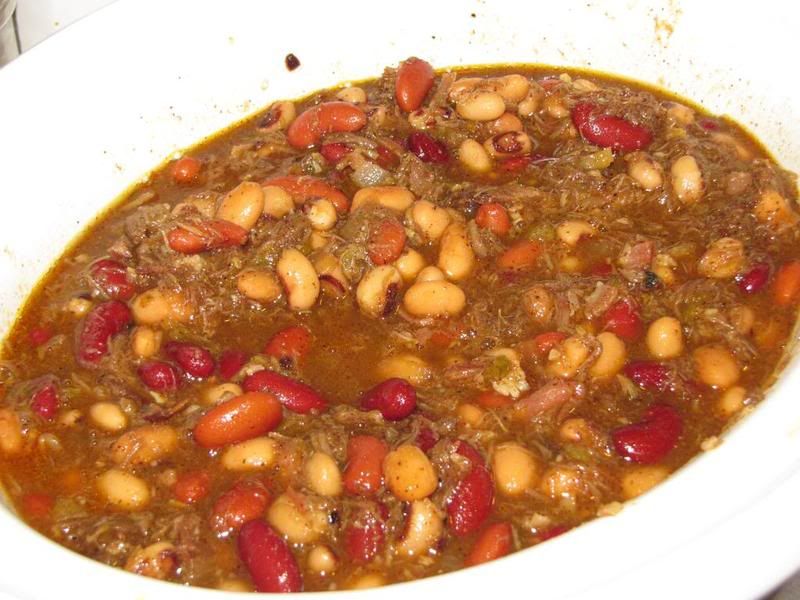 After about an hour or so, the mixture started to simmer so the heat was dropped down to low and they proceeded to cook for another 3 hours on low heat. After that, the beans had really softened up.
The sauce actually appeared much darker than this but, due to the magic of flash it looks quite a bit lighter. To go along with this, I cooked up some polish sausage and some corn bread. Not being able to find my recipe, I just used the one on the back of the can. (I'm using that corn bread recipe from now on, it totally rocks! But, I added an extra Tbs of sugar.)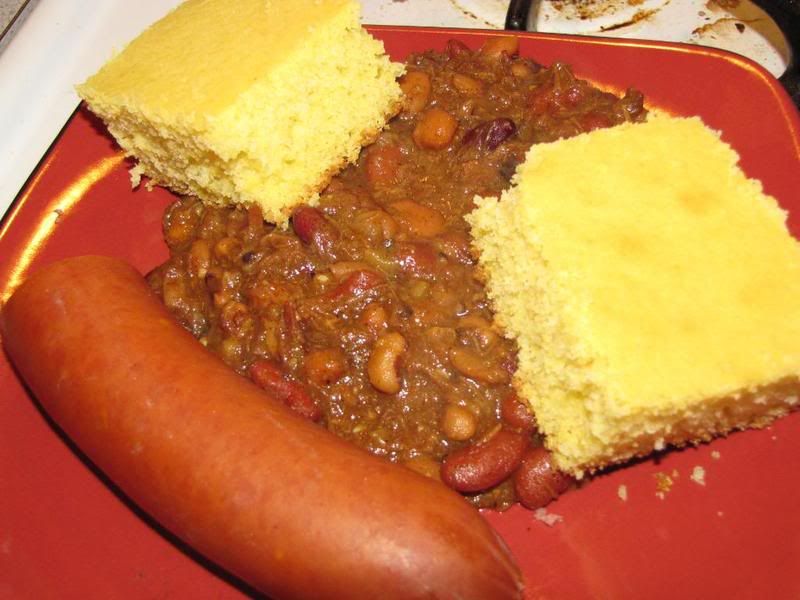 My favorite part of this meal was when you would cut through the corn bread into the beans and get a bit of both with every bite, it was such an awesome combination of flavors and textures. The zing of the Polish sausage was also a nice addition to the meal as well. This was one of those meals that you were stuffed after the first plate but, you couldn't help from wanting even more!
Thanks for looking!
<< Start < Prev

31

32 33 34 35 36 37 38 39 40 Next > End >>


Page 31 of 46