Deep in the Sauce
It's about sauce, food, & everything else.
Written by Tom
Chicken was on the menu for dinner the other night but, I wanted to do something different with it. I had been craving tacos for awhile but, didn't feel like doing all the veggie prep that is involved. Then I mentioned to my wife about making chicken enchiladas. This was an idea that was accepted with great approval. For some reason, enchiladas is one of those dishes that the whole family loves and will gladly gather around and try to destroy as much as possible in one sitting and then beg to take the leftovers home. Not wanting to miss an opportunity to due some further testing on the Man Grates I received recently, I decided I would grill the chicken before putting it in the enchiladas.

I started by pouring about half a can of enchilada sauce into a bag with the chicken breasts and then let them marinade like this for 2 hours.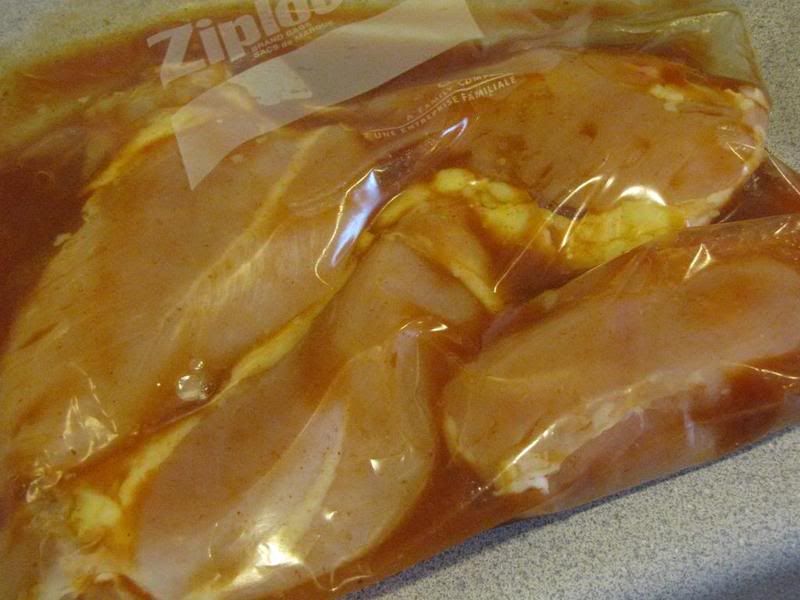 The grill was fired up and prepped, then on went the chicken!


Quarter turn, wait 4 minutes, then the flip!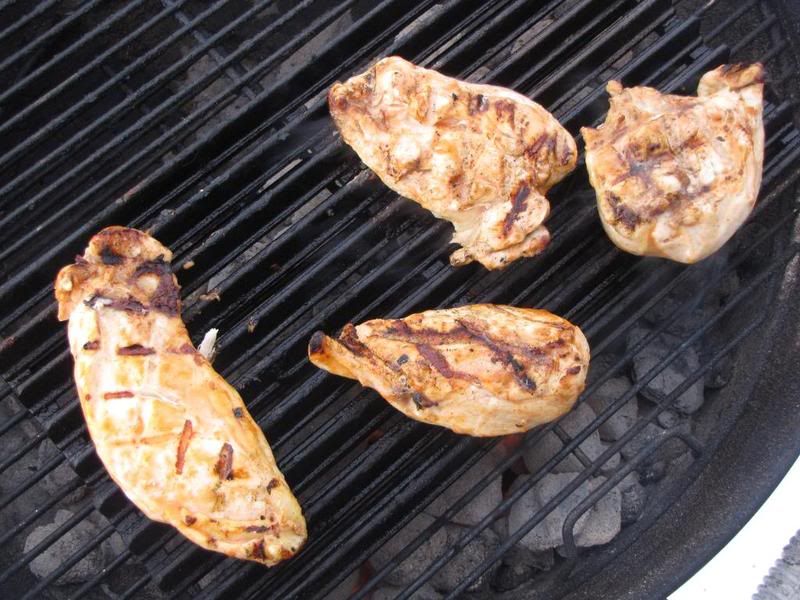 Another quarter turn, another 4 minute wait, and off they came!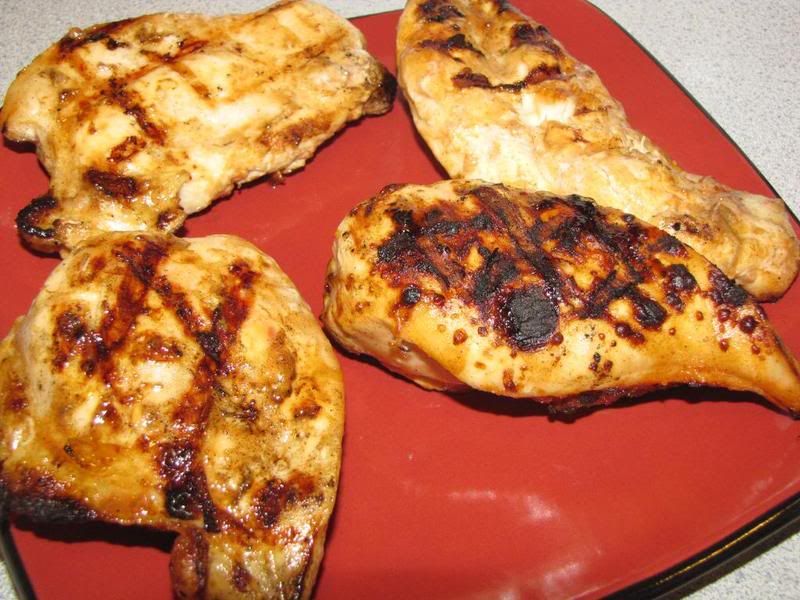 The rest of it was pretty much standard enchilada directions that you would get off the can, with one exception. Since the chicken was already cooked, I didn't see the need to put it in a pan along with the sauce and cheese. Instead, I put the now pulled apart chicken, enchilada sauce, and cheese in a glass bowl that I microwaved for a minute until the cheese started to melt. I may have added a bit more cheese then the directions said but, that's how we roll in Wisconsin. Next, I sprayed down some 13x19 pans with non-stick spray, then put in a layer of enchilada sauce in the bottom of them. For the enchilada's themselves, I used whole wheat tortillas and put about 2-4 TBS of stuffing into each. The stuffing was enough to get 12 enchiladas or 1 & 1/2 pans. I then drenched the tops of the enchiladas with more sauce and a bunch more cheese. Then into the oven at 375 they went for about 18 minutes. I served them up with some "chicken flavored" rice that I dumped a 1/4 cup of the enchilada sauce into and some corn.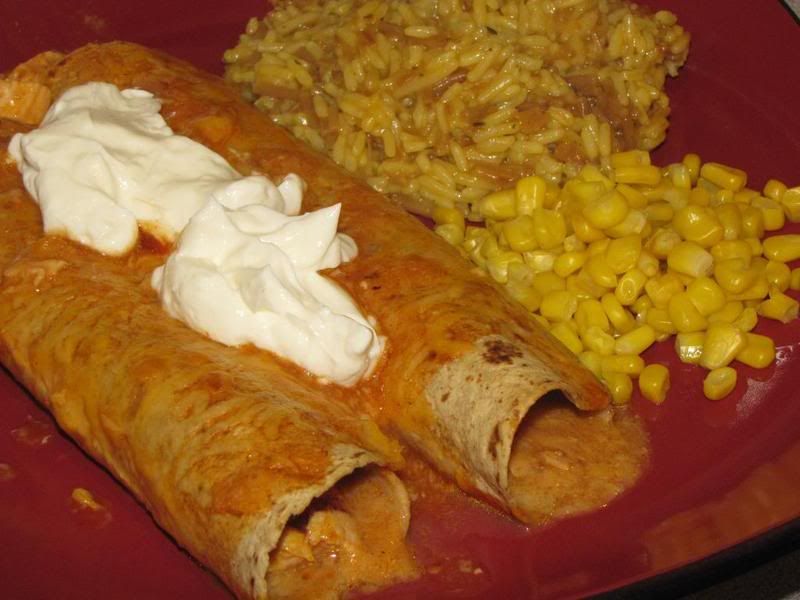 They were darn good but, I needed some more heat with mine so mine got dusted with a dried pepper blend.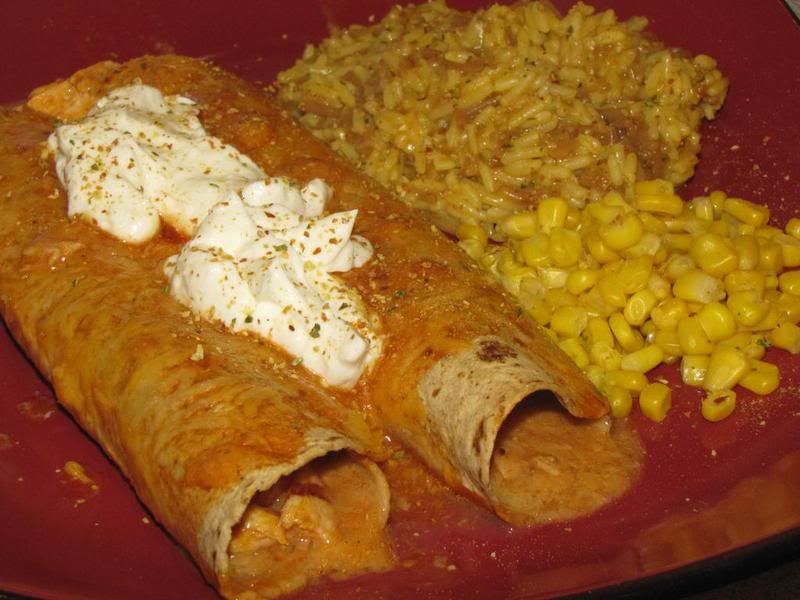 These rocked and were completely destroyed. Loved the grill hit that you could taste in the chicken and it acquired a sweetness that I've never had in enchiladas before. Not sure if it was the tortillas or the chicken being marinaded in the sauce but, they rocked!
Thanks for looking!


Written by Tom
In my continuing efforts to clean out the freezer before buying any more meat, I decided to smoke up a turkey this last week. This last Thanksgiving, I introduced my wife to the wonder that is brined and smoked turkey breast. It only seemed logical to show her what I could do with the whole bird. Because, there is talk about my bird replacing the oven one next year at the BIG family meal.
This isn't the first Turkey I've done on the smoker but, it is the first whole one that has not only been cooked but smoked. Meaning, smoking wood was added to the coals where in the past it was straight charcoal that was used causing a very low if non-existant smoky flavor.
It started with cooking up some brine on the stove. This was done in my usual, "throw in some of this, throw in some of that." mad dash method but, what I can tell you for sure that it had in it was 32oz of Apple Juice, 1 cup of BBQ Sauce, 16 oz of Orange/lemon/tangarine juice, one can of berry Fresca, 1/2 cup sugar, 1/4 cup kosher salt (need more next time), 1 yellow onion, 1 Tablespoon Minced Garlic, and 1 chopped up celery heart. The rest of the seasonings is kind of a blur. I brought this all up to a simmer and then dumped two trays of Ice into a large pail Followed by 10 cups of cold water, and then dumped in the brine mixture. The contents of the bucket were stirred and then the turkey was dropped in. Water was added until the turkey was fully submerged.


A lid was put on the pail and the turkey sat in the brine on my porch for about 2 hours. During this time, I fired up the smoker, added some wood, and opened up the vents to where I knew it would top out at around 300-325 and waited until the blue smoke started flowing. The turkey was pulled out of the brine, given a rinse, paper towel dried and left to sit on a rack and air dry for about an hour. I then sprayed it down with Olive Oil and then applied seasoning salt along with a dusting of herb pepper rub. The turkey went onto the smoker when it hit about 210. I know that I said that the smoker was set for 300-325 but, this was part of the plan. This way the turkey would get more smoke as the temperature climbed and when it hit 300-325 the smoke would be very light. Nothing worse than over smoked food, just ask my wife.


After an hour, the smoker temp had rose to 300 and stayed between there and 310 for the rest of the cook. When my instant read thermo said the bird was at 120, I placed it in a disposable pan and put a tinfoil sheet over the top of it. I left air gaps in the sides of the foil and pan because I wanted the skin to crisp up but, didn't want the bird to take on anymore smoke. After 2 more hours and one faulty remote thermometer thrown across the room in disgust after using instant read thermo, the bird was taken out of the smoker with a breast temp of around 175-180 and a thigh temp of around 195-204.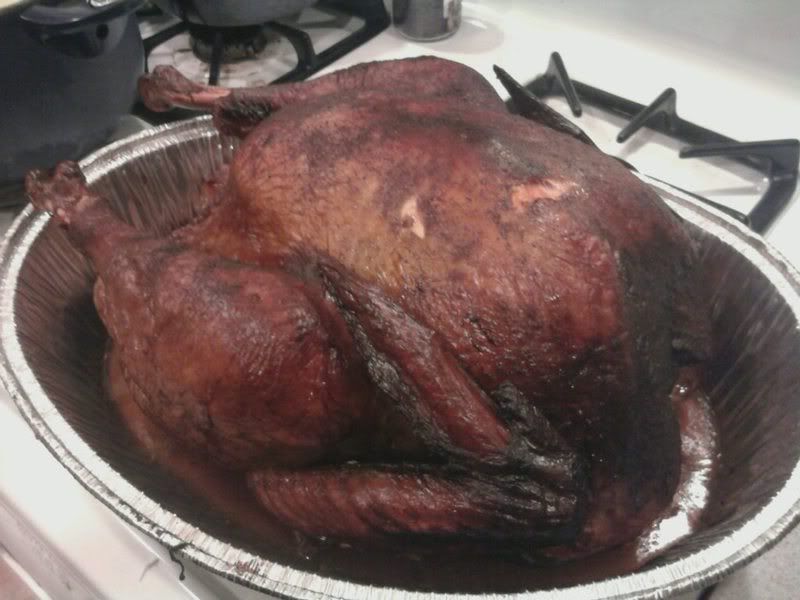 The bird was allowed to rest for about 15 minutes. We served it up with some smashed taters and gravy made from the drippings in the pan.


Rave reviews were given all around but, it was agreed that the brine probably needed a bit more salt and the bird could have sat in it for a bit longer. Otherwise it was almost spot on.

The great thing about turkey of course is the leftovers, this time was no exception. I was so happy with how the gravy turned out, I had it and the mashed potatoes for lunch the next day, course, I added some cheese curds to give it a poutine flare.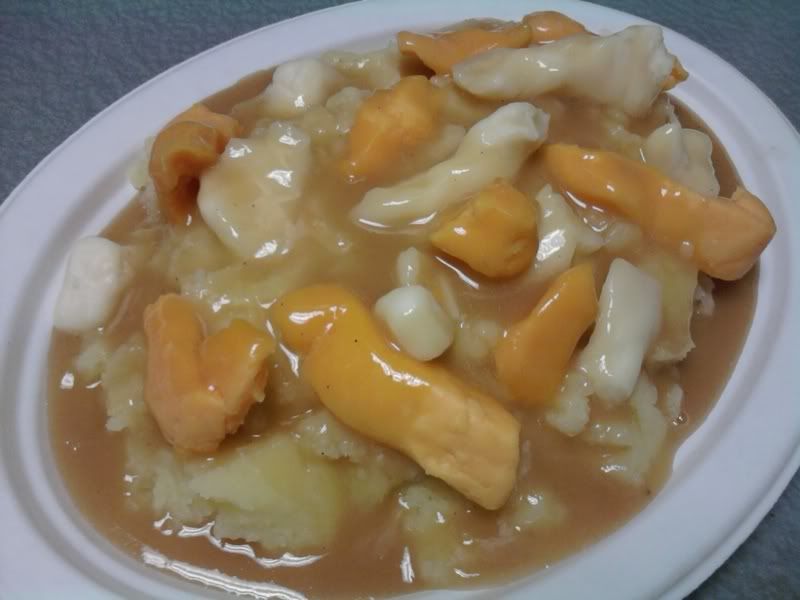 Thanks for looking!
<< Start < Prev 31

32

33 34 35 36 37 38 39 40 Next > End >>


Page 32 of 46