Deep in the Sauce
It's about sauce, food, & everything else.
Written by Tom
There was a pack of pork loin cutlets sitting in the fridge just waiting to be used. I call them cutlets mainly because they ended up being pretty small, thick, but, small. The only two things I knew for sure was that they were going to be grilled and, I wanted to do something special with them. Last week, I stuffed a part of this same pork loin with a duxell and bread stuffing combination. That was very very good so, I thought about stuffing these as well but, I couldn't do a bread stuffing again. So, after a quick run through the fridge and cupboards, I came up with these ingredients to play with.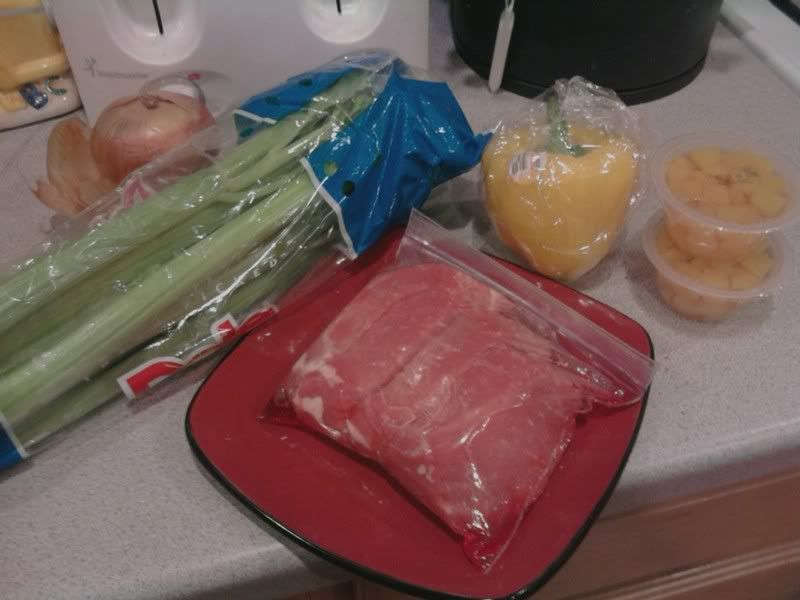 Did I mention that there was also a snow storm going on? This is what the grill looked like when I went out to light it. (The white streaks are falling snow that decided to get in the picture.)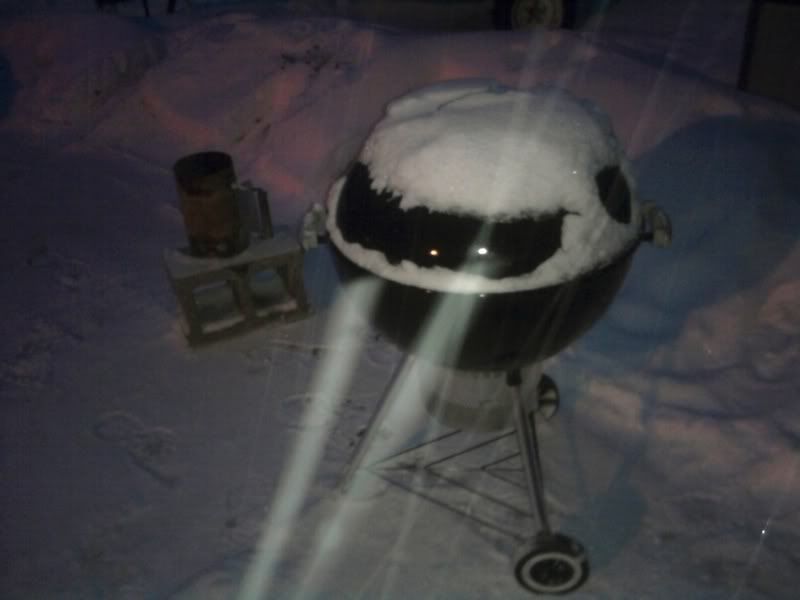 While the coals were heating up, I started on the stuffing. This was the ingredients I went with for it:
1 Medium Yellow Onion
1 Celery Heart
1/2 Yellow Bell Pepper
2 Peach fruit cups, fruit and juice seperated.
1 tsp Garlic (minced)
1 tsp Chile Powder
1/2 tsp Cinnamon
1/2 tsp seasoning salt
1/2 tsp black pepper
2 Tbs Olive Oil

First the onion was chopped up followed by the celery. Now, When it comes to celery, I love the flavor it brings to dishes but, I've found the best flavor comes from the heart of the bunch. Therefor, I ripped it out and used it.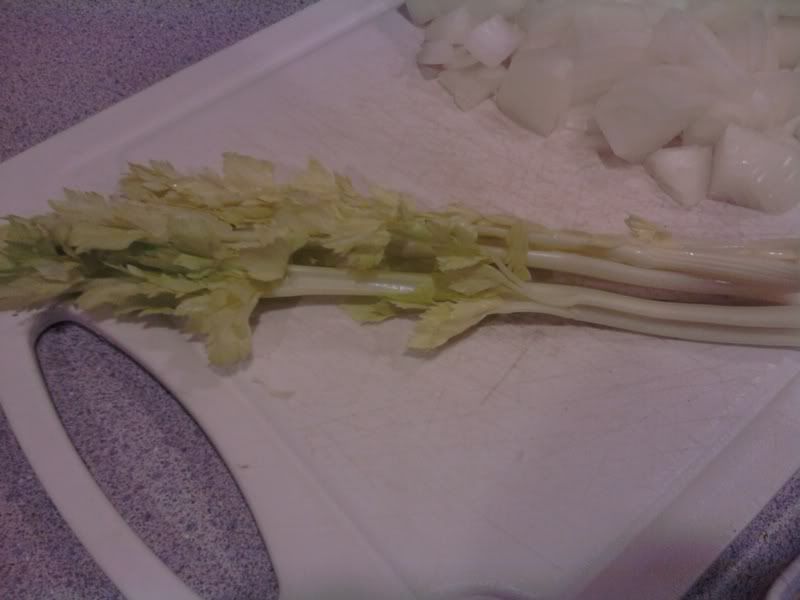 Then half a yellow bell pepper was chopped up as well.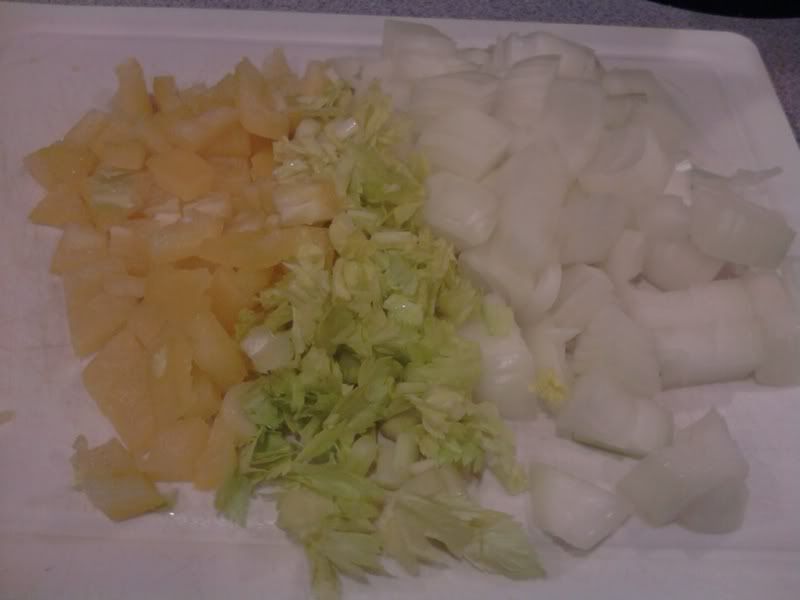 Then into a saute pan with the olive oil, went all the veggies.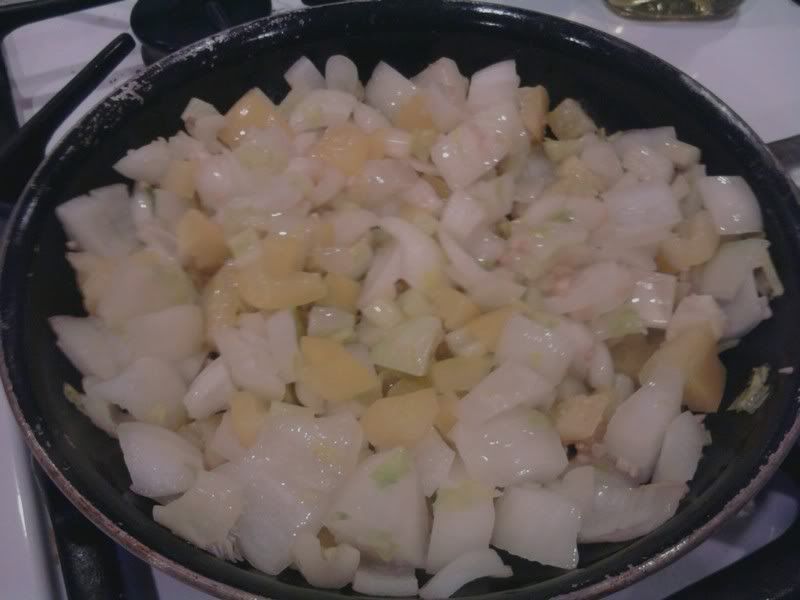 I then threw in all the seasonings except the salt and continued to cook the veggies until they started to soften. Then the peaches went in.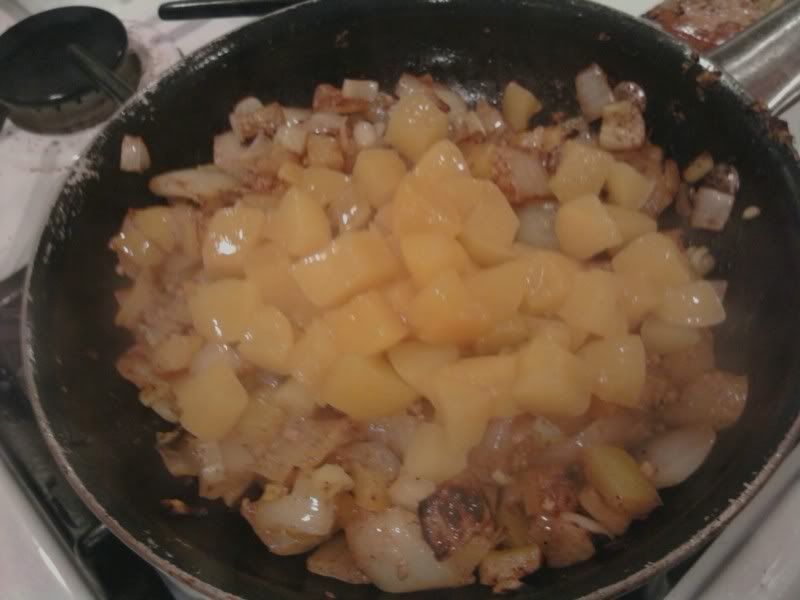 After this had cooked for a couple of minutes, I added the salt and let it continue to cook on extremely low heat while I worked on the cutlets.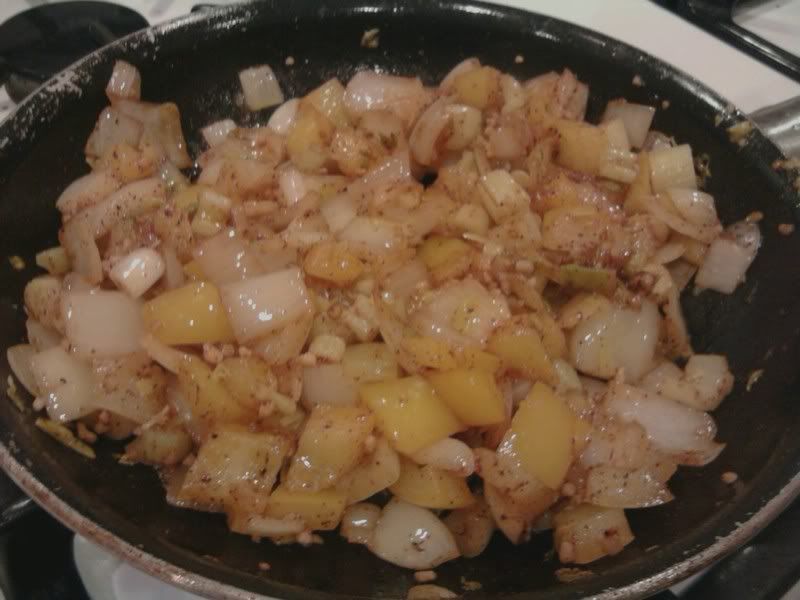 To create the stuffing pocket in the cutlet, a fillet knife was inserted and worked through the meat in an arcing motion.


By doing this, it creates a relatively small opening and a cavity within the meat. If doing this yourself be extremely careful not to cut yourself. Also, it helps to feel inside the pocket to make sure you have created a large enough area.


Due to how small these particular cuts were, I decided I could use all the help I could so, I then tenderized them to help flatten them out and make them a little bigger to work with. It's important to do this, only after you have made the pocket and not before, if you do it before, the meat may be too think to safely cut into.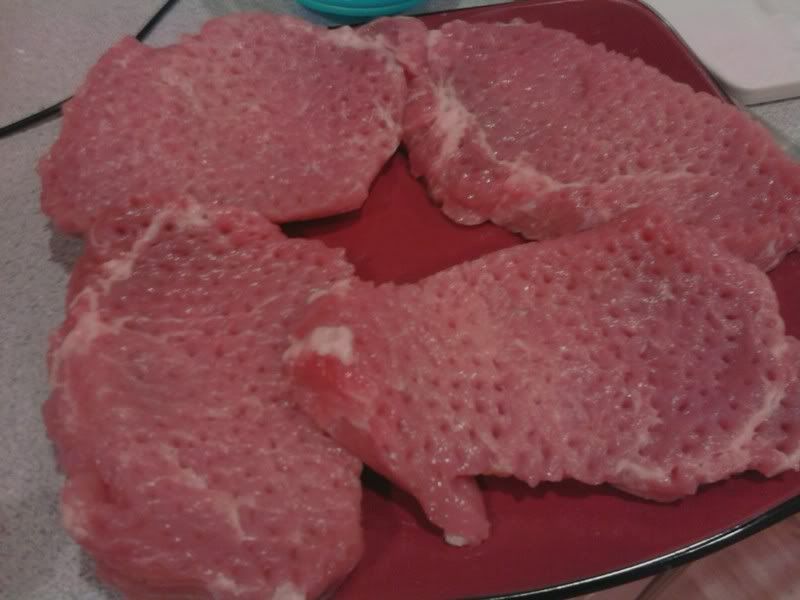 By this time my stuffing had cooked down nicely and was ready to go.


Now it was time to stuff! I used a teaspoon to do this. A teaspoon is nice because of it's size. Not only are you putting in little amounts at a time but it can also fit in the cavity and help pack in the stuffing.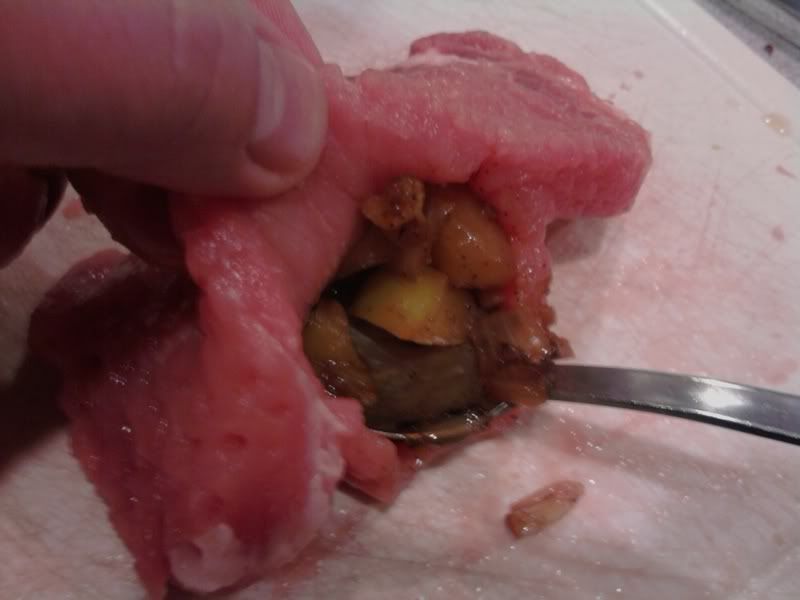 Because these were destined for the grill, I did not want to over stuffed them. They were stuffed up to the point where I could still close the opening with a toothpick.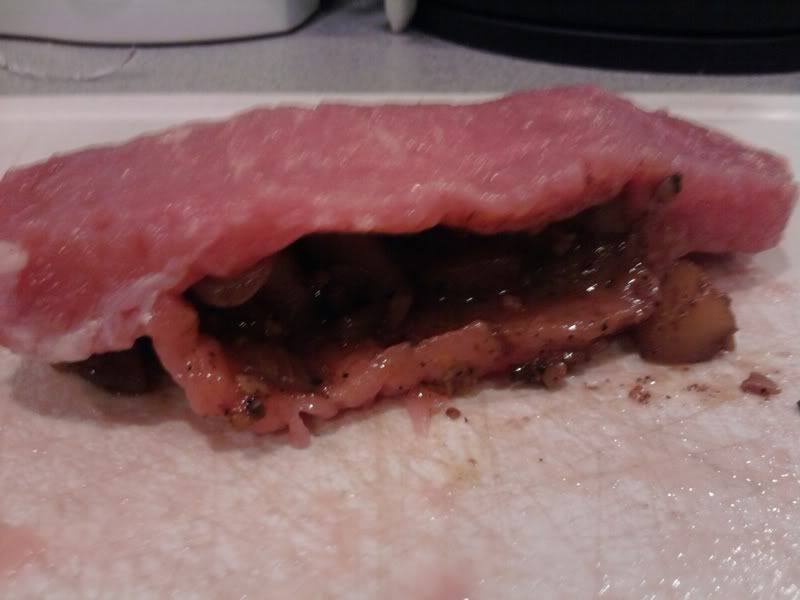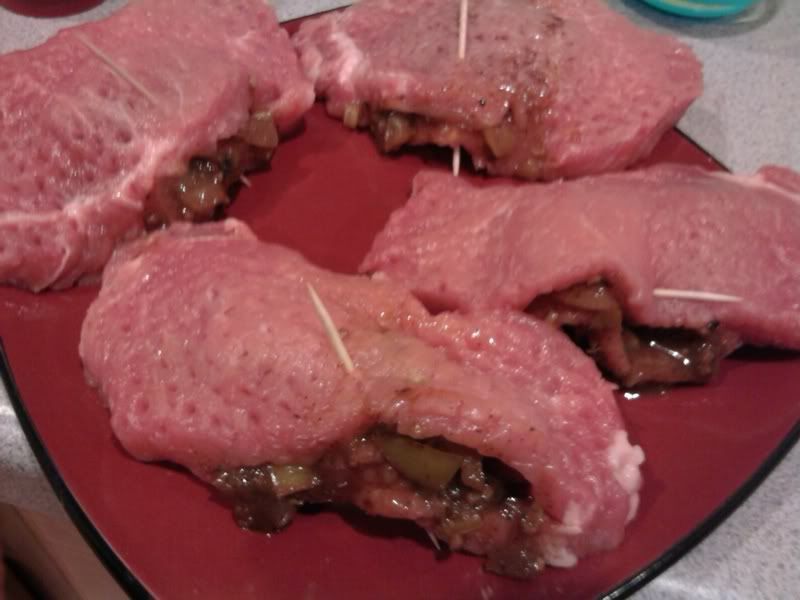 These received a quick dusting of seasoning salt and then onto the grill they went to cook over direct heat.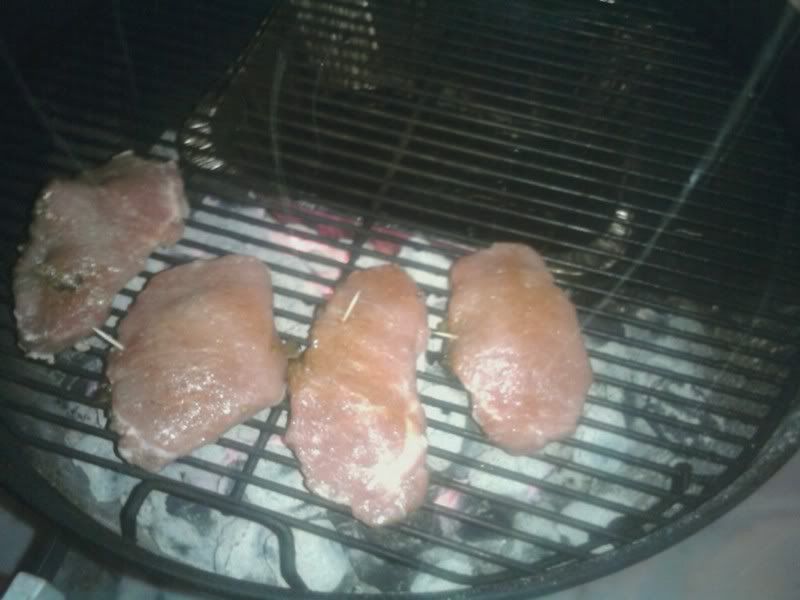 While these were cooking, I returned the stuffing to low heat. The peach juice along with 1 Tbs of sugar were then added to the stuffing to create a compote. Or, at least, I'm pretty sure it would be called a compote now. Darn cooking terms.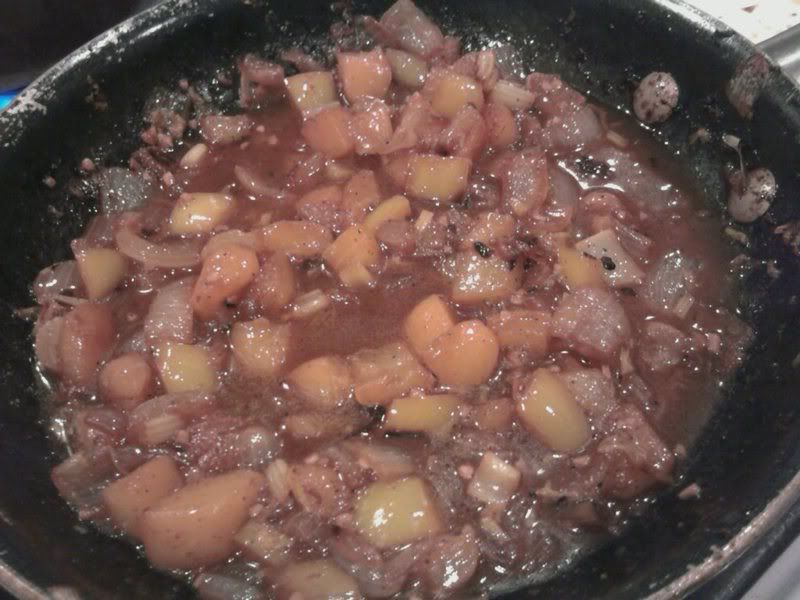 Due to how thin the meat became with cutting the cavity and tenderizing, the cutlets were only cooked for about 5 minutes on one side before they were flipped.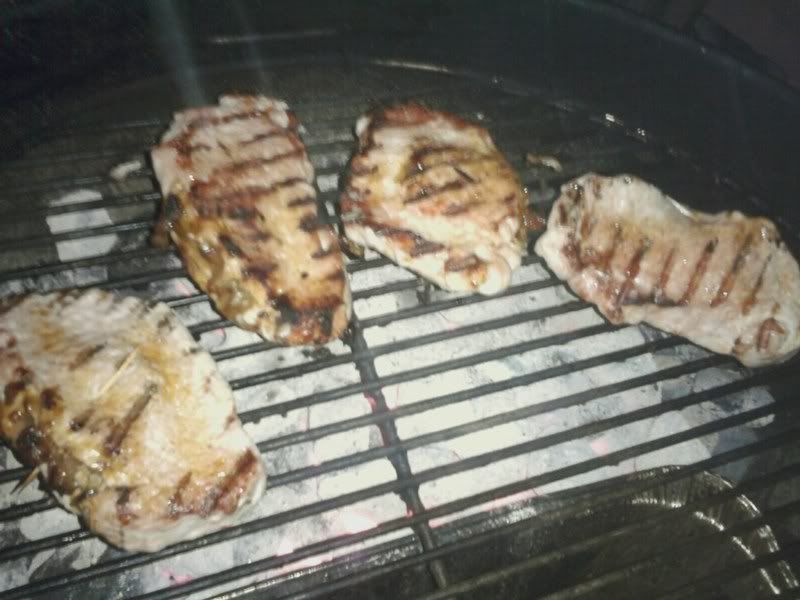 After they cooked for about another 3 minutes, they were removed from the grill. Seriously, these things will cook wicked fast and you can easily burn them if you don't pay attention.


The cutlets had the toothpicks removed and were then served up with some of the compote on the top and some buttered pasta came along for the ride as well.
This was some darn good eating! The meat was very moist! The stuffing and compote gave it almost a peach cobbler like quality. I plan on hitting these leftovers hard later today and I'm so going to do this again.
Thanks for looking!


Written by Tom
Guess what someone gave us for Christmas. Fish! A whole quart bag full of Walleye filets! This can only mean one thing. It's time for a Fish Fry!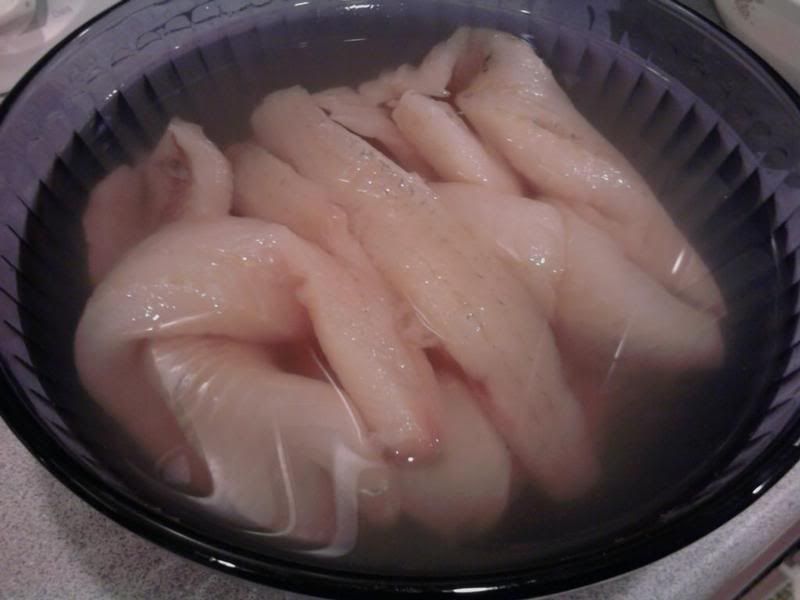 As simple and delightful as it sounds, there can be quite a bit of complexity involved. Up in this neck of the woods, people are on a constant quest to find "The Best Friday Night Fish Fry". One of the biggest reasons for this is because individual taste varies so greatly when it comes to fried fish. Some like it crunchy, some like it crispy, some like it pub style (smooth batter), some like beer battered, and some like a little bit of them all mixed together. We won't even get started on the "type of fish used" argument. So, when it came time to fry up our gracious Christmas present I initially was a bit stuck as to what type of batter to use. Trying to think smarter, not harder, I asked my wife what her preference would be. After going through the checklist, it was decided that something similar to a beer or pub style batter would be most approved of.
Now, I've made batters before. In general, the usually consist of Flour and a liquid of some sort along with a few seasonings. You will find recipes for them all over, some use eggs, some use baking soda and baking powder, some use beer, some use milk, this goes on and on. In the end, I always go with taste. Yes, I taste my experimental batters, even if they have raw eggs in them. I seriously can't figure out how people can just throw some ingredients together, cross their fingers, and hope for the best. Just doesn't make any sense to me. In this case, I headed into the kitchen with a couple of ideas and this is the batter recipe I came up with.
As a quick note: When digging through the cupboards, I came across a bag of Whole Wheat Flour. I don't use this very often but, want to do so for healthy sake. For this batter I used it and was very happy with the results. Also, this recipe worked for 6 whole walleye filets. Go less or more as would be needed.
Tom's magic pub batter:

2 Cups Whole Wheat Flour
1/4 Cup Corn Starch
2 eggs
1/2 Can of Light Beer
2 Tbs Cooking Oil (I use Extra Virgin Olive Oil)
1 Tbs Sugar
1 Tbs Kosher Salt
1 Tbs Rub/Seasoning blend (You can substitute 1/2 Tbs Seasoning Salt & 1/2 Tbs Black Pepper)
Milk You will need atleast 1 & 1/2 cups but need more to create desired consistency.
Start by combining all of the dry ingredients. Crack the eggs into a separate bowl and stir in beer until well blended then dump this into the dry mixture. When you start mixing the wet and dry ingredients, add the oil and start pouring in the milk. The batter should become smooth with stirring. You know you are at the right consistency when the batter clings and coats your spoon or fork but will slowly drip off. Or as my oldest said, "till it's like snot!". Lovely imagery isn't it? But, the description is rather accurate. Here is what it looks like when all mixed.
Now that the batter is all mixed up, it's time to get everything else ready. When it comes to frying fish, I'm still a believer that Cast Iron is the only way to go. I got out my 14" cast iron pan, they are big fillets after all, and put an inch worth of canola oil into the pan. Now, there will be some that argue that the best fish is friend in bacon grease or rendered fat and, for the most part, they would be right! But, it definitely isn't the healthier option to go.
The pan was placed over Medium High heat. You really are shooting to get the oil up to 375 at the lowest. If you go less than that, your fish will get very oily. Next, we set up our battering station. This consists of the fish sitting drained in a bowl, followed by a flour dredging dish, and then the batter.
From this point, the process is pretty simple. With one hand you take the filet from the bowl, dredge it through the flour and then place in the batter. With the other hand you flip the filet in the batter to evenly coat it and then transfer to the frying pan. I apologize for not having pics of this process but, my hands were rather busy. The filets will begin bubbling away as soon as they hit the oil so be careful and use a grease screen if you have one.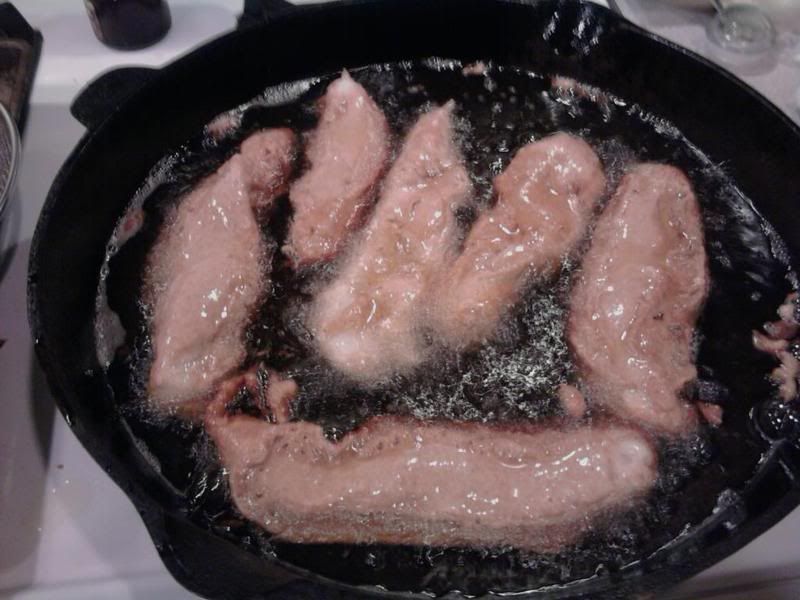 Let the fish cook from 3-5 minutes before flipping depending on the thickness of the filets.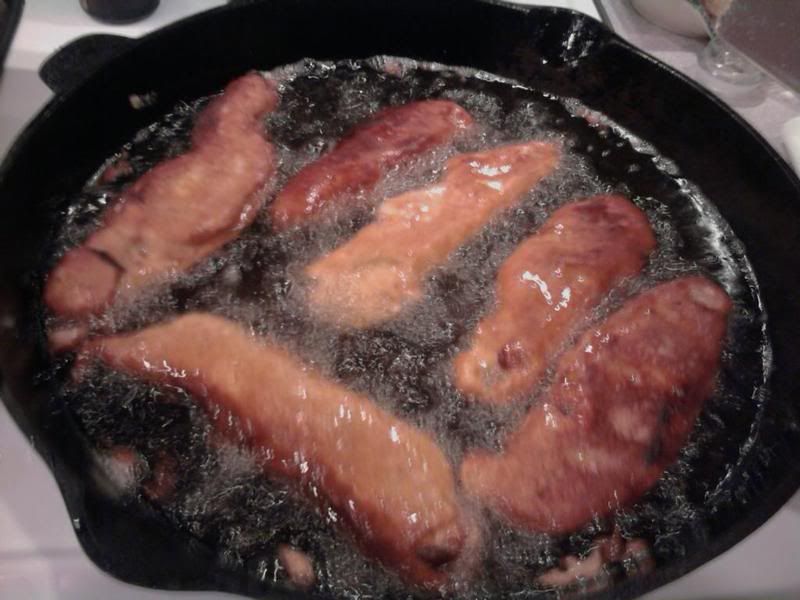 Once they are flipped, allow them to cook for another 2-3 minutes until they appear evenly golden brown. Repeat process until all filets are done.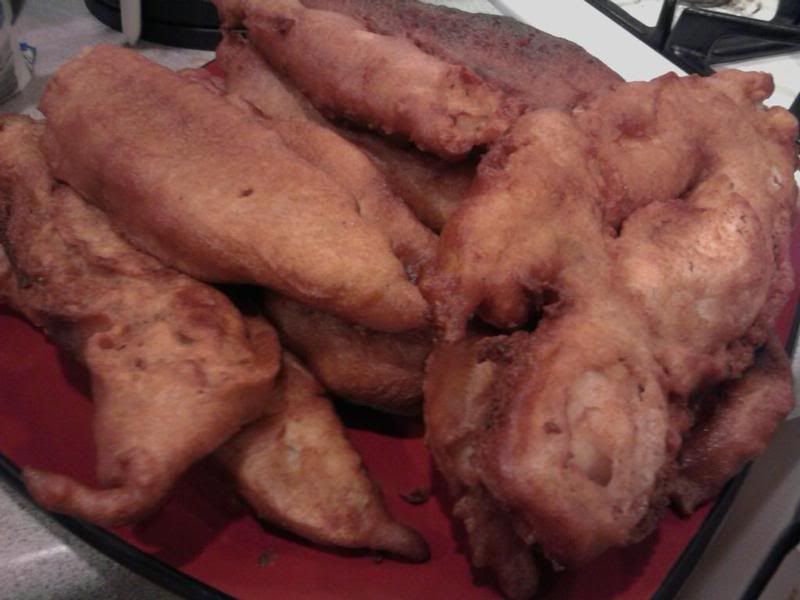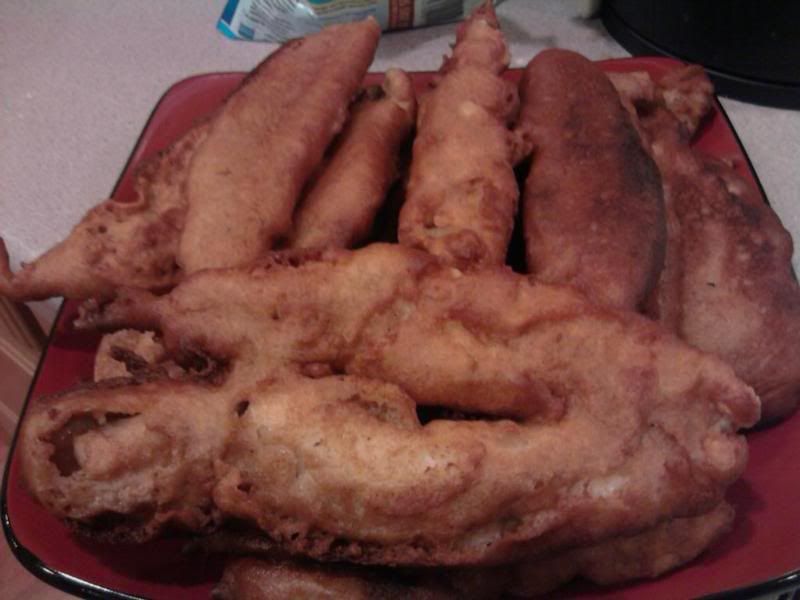 Serve up with your favorite sides and condiments! This time for us it was some sweet potato fries and a veggie blend. I had mine with some "No Butz" BBQ Sauce.
Someone put in a request for tartar sauce. We didn't have any but, I wasn't about to let that stop me. So with a quick run through the kitchen I came up with a new tartar sauce recipe.
Butzed up Tartar Sauce:
6 Tbs Miracle whip
1 Tbs Pickle Relish
1 Tbs Basalmic Vinegar
2 Tbs BBQ Sauce (I prefer Hot, xtra hot, or "No Butz" flavors.)
Directions are simple: Mix it all together in a bowl. Great fresh but, the longer it sits the more everything blends.
This stuff is awesome! I managed to save some for myself to go along with leftover fish the next day at work.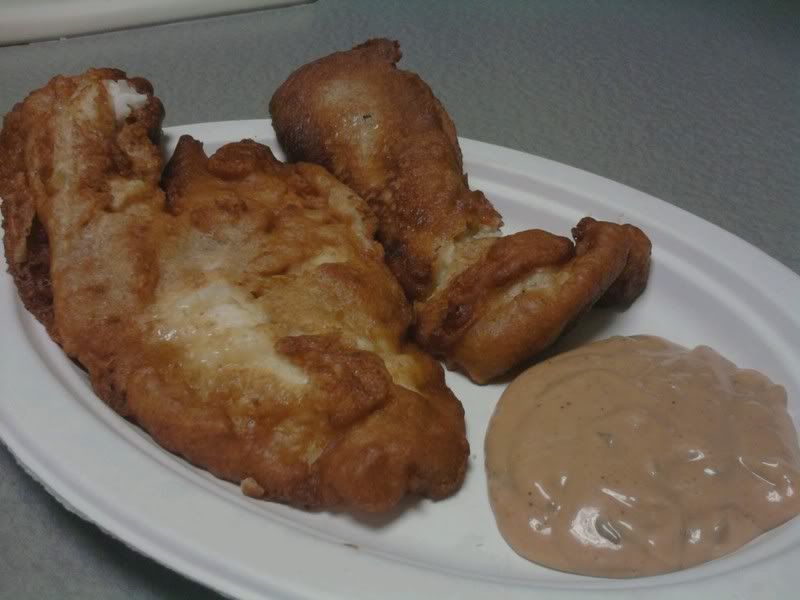 These are two recipes I am glad to add to my collection and will highly recommend them to anyone!
Thanks for looking!
<< Start < Prev 31 32 33

34

35 36 37 38 39 40 Next > End >>


Page 34 of 46