Deep in the Sauce
It's about sauce, food, & everything else.
Written by Tom
When I asked my wife what she wanted for dinner the other night, she replied that chili sounded really good. I don't often make chili for two reasons. One, I like very thick chili and my wife makes a thinner very sweet version. Two, I always think chili needs to have heat to it and I'm the only fan of spicy in my house. But, I told her it sounded good so I would see what I could come up with.
To the fridge I went! I was mentally going through the stuff you would fine in standard chili when I came across a bag full of pulled pork that needed to be used up. So that's where I came up with the idea of making Pulled Pork Chili along with some cornbread made from scratch. I have to say I was rather impressed with the results so, I figured I would share the recipe with you all.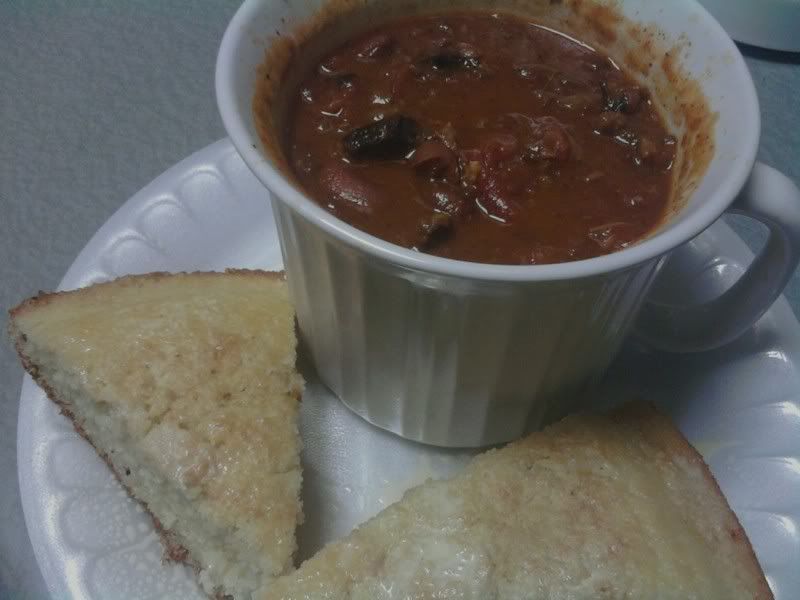 Pulled Pork Chili:
1lb lean ground beef
2.5lb of pulled pork (unsauced)
3 cans of kidney beans
2 cans of diced tomatoes
2 cans of Cambles Tomato Soup
3/4 cup BBQ Sauce
3-4Tbs of Chili Powder
4 Tsp of Seasoning Salt
1 Tbs of Black Pepper
4 Tbs of Bacon Grease
1/2 Large Onion
Brown up the ground beef with 2 Tbs of Bacon Grease, 1/2 Tbs of Chili Powder, 1 tsp of Seasoning salt, and the 1/2 onion diced up. Throw this into the pot. Now do the same with the pulled pork (I chopped my pulled pork into smaller pieces), except the onion and, toss it into the pot. Next comes the beans, thoroughly drain and rinse them first. Then add the tomatoes, drained as well. Then the Tomato soup goes in, fill up each soup can with water once and dump it in. Add the remaining spices along with the BBQ Sauce. Bring it up to a simmer and leave it at that for a good hour or two before dropping the heat down to low. I let this cook all day and the melding of the flavors will be awesome!
For the Cornbread, I got this recipe idea from my friend Cyndi Allison on twitter who showed me to this site. here
I didn't have exactly all the ingredients so this is what I ended up doing for my cornbread.
Cornbread:
1 & 1/4 cup Yellow Cornmeal
3/4 cup all purpose flour.
3 tsp Baking powder
1 tsp salt
1 Tbs Sugar
2 Eggs
2 Tbs Bacon Grease
1 & 1/2 cup Milk
3 Tbs Bacon Grease (goes into the cast Iron pan)
Preheat your oven to 425. Put the 3 Tbs of Bacon Grease into the pan and putt the pan into the oven to heat up. Mix together the dry ingredients in a bowl then mix together the wet ingredients in another bowl, then combine the two and stir it quickly just to break up any big lumps, some little ones may remain. Let the batter stand for a few minutes then take the pan out of the oven and pour the batter into it. Place the pan back in the oven and bake 15-20 minutes or until the top starts to brown and a toothpick pulls out clean.
Thanks for looking and hope you enjoy these recipes as much as my family did.
Written by Tom
The argument shall come up continually, did I build it for her or for myself, truth is it's probably a mix of both. Either way, we're both happy. 
My oldest has been wanting to help with the grills and smokers more recently. She asked if she could have a little grill of her own, my response was that we already had a little grill but we could use it some more if she wanted to help grill more. She was very excited about this and helped with the stuffed chicken thighs I did a while back. After that, I was using a UDS (Ugly Drum Smoker) and she asked if there are smokers her size. I told her that we could build her a mini UDS some day. We would just need to find a small drum and some parts.
That was all she needed to hear. The next weekend she was helping her grandpa fix something and told him, "Dad's going to build me a smoker my size but says he needs a little drum and pieces. Do you have a little drum grandpa?" When I got home, that night, there were two small drums sitting outside of his shed, here he already had a couple of them. I picked out the cleaner of the 2.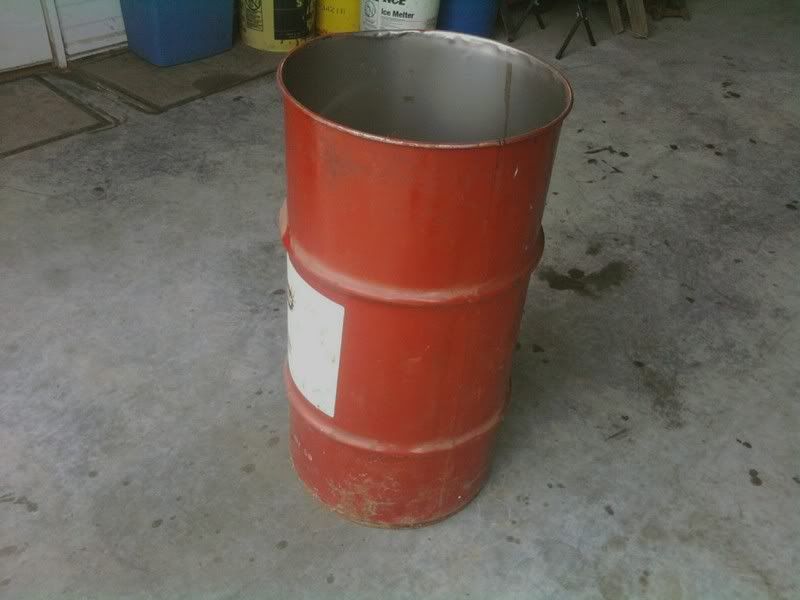 All that was left was to find a lid and some grates, I figured I would have to really scrounge or buy the other parts. The next day we were at a giant rummage sale, yeah, you probably guessed it, there was a baby Sunbeam brand grill, the bottom was rusted out so, I talked the guy down to $0.50 for it.  All that was left was a stop at the hardware store and some time to work on the little thing.
I decided that this would be a good oportunity to build my first no-weld UDS being as my welder (FIL) has been rather busy lately and mainly because I wanted to see if I could do it. So, I drilled out my vent holes first.
Then came the burn out process. This drum had Mobile Lubricant in it at some point so, it was required.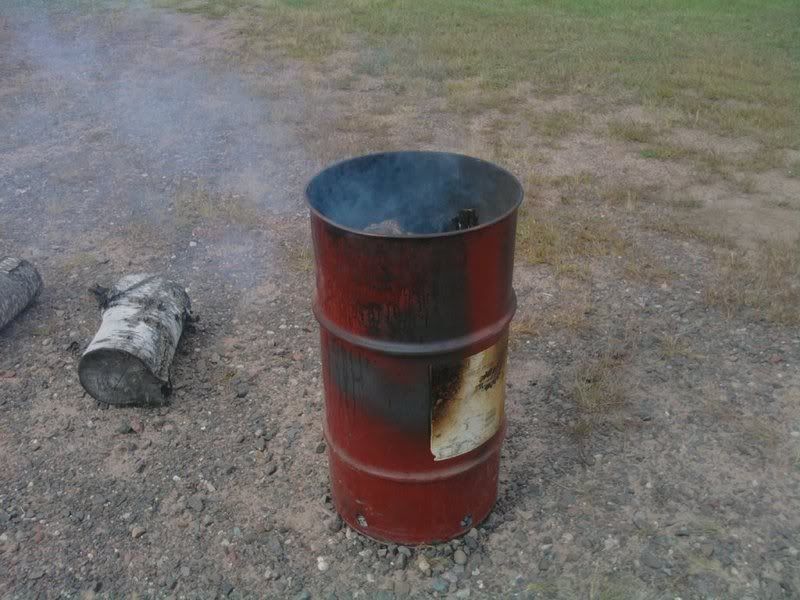 This lasted well into the night.
Then came time to put in the hardware and paint. I used 3/4" pipe this time around and locked it in place with conduit nuts. For the rack supports I used 2" long bolts with one that was left to slide out on the top shelf, so as to allow for a second shelf to be put in. Without this removable one, a second shelf insert would be nearly impossible. From there it was onto paint. Classic stove black base.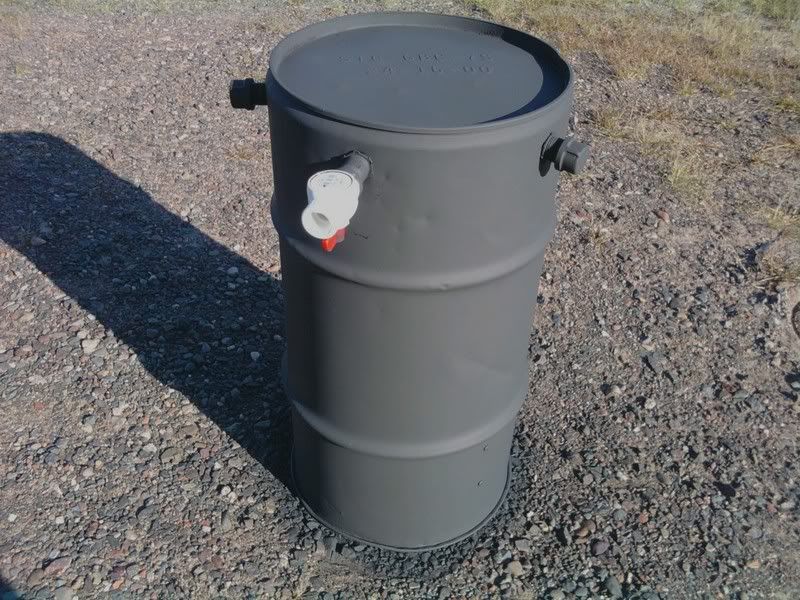 I'll have to post some internal pics when I get a chance to take them but, the charcoal rack consists of a charcoal grate for a small Weber with 4 4" long 3/8" carriage bolts holding it up off of a 9" pie pan and, to hold the charcoal I'm currently using an old coffee can that I cut the bottom off of and then burned thuroughly in a fire for 2 hours. This set up works pretty good but, I've actually found that I have to pick up and place each piece of hot coal inside with a pair of tongs due to a chimney dump being impossible but, it only takes about 4-6 pieces to get it going. I have yet to install a permanent thermometer and and right now am just dropping one down through the top vent. I got a little carried away with the paint being as this was a kind of camping project for me but, my daughter really likes it.
We seasoned her up with some scotch eggs and 2 fatties for breakfast followed up by some brawts wrapped in bacon for lunch and then some steaks for dinner.
My daughter is so proud to have her own smoker and tells everyone about it even though, she gets easily distracted and I end up doing most of the cooking on it thus far.  I must say that I have been rather impressed with this little ones performance thus far and when I fired up one of my regular UDSs the other day, it fealt like I had the whole world to cook on after playing in miniature for the last couple of days.
Here she is with her older siblings. I think she is more than a welcome addition to "the family".
Thanks for looking.
<< Start < Prev

41

42 43 44 45 46 Next > End >>


Page 41 of 46