Deep in the Sauce
It's about sauce, food, & everything else.
Written by Tom
Recently I had the unfortunate experience of have most of my family suffering from their own individual ailments all at the same time. During this time I decided why not make up some homemade chicken noodle soup. So that is what I set out to do, now mind you, this isn't an exactly pure from scratch chicken noodle soup but it is definitely a step beyond just opening a can and dumping it into a pan or microwave safe bowl. Here is the recipe for those who want it but, I intend to ramble on a certain part of the process for a bit afterward. Enjoy!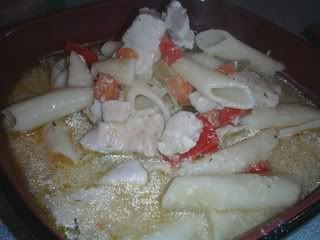 Tom's Easy Chicken Noodle Soup!
2 Celery Stalks
2 Large Carrots
1 Red Bell Pepper
1/2 of a medium Red onion
4 Garlic cloves
2 tsp Thyme
1 tsp Oregano
1 tsp Basil
4 boneless skinless Chicken Breasts
6 Tbs Extra Virgin Olive Oil
4 Chicken Bullion Cubes
1 Tbs Kosher Salt
1 tsp Lemon Juice(optional)
1 Box of Penne Pasta
12 cups Hot Water
Salt and pepper to taste
Start off by dicing up all of the veggies including the garlic. Make sure to take the leaves off of the celery stalks and chop them up to be thrown in as well.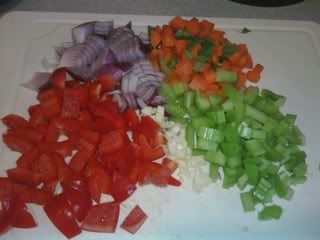 Pour 3 Tbs of the Olive Oil into a large pot on the stove, one that can hold at least 4-5 quarts, and put on at medium heat. After a minute of letting the oil heat up, dump all of the veggies in. You can also dump all of the herbs in but NO SALT. Cook the veggies until they start to give up some liquid making sure to stir them occasionally. While you are waiting on the veggies, cut up the chicken into bit size cubes. After the veggies have cooked for 5-10 minutes, add the remaining olive oil, turn up the heat to medium-high and dump the chicken in.
Once the chicken is in, dump any of the herbs you haven't added. Stir often until you see the chicken starting to cook, then add the Kosher salt and lemon juice(don't have to add the lemon if you don't have it). Once you add the salt, you will notice that there will be a lot more liquid in the pot. Continue stirring often, while thinking positive thoughts, until it appears that almost all of the chicken has turned white. During this time, measure out 1 cup of hot water and drop the 4 chicken bullion cubes into it, microwave this for one minute and stir until all or almost all of the cubes have dissolved. Pour the bullion mixture into the pot and stir in. Now add the remaining 11 cups of hot water to the pot and stir (When I say Hot Water, I mean Hot from the tap not boiling in a side pot). Continue stirring, while thinking positive thoughts, until the mixture comes to a boil. Once it does, dump in the box of pasta.
Proceed to cook until the pasta is tender, this usually takes about 10-15 minutes. At this point turn the head down to very low. You could just stop here and call it good if you would like and simply add salt and pepper to taste but, if you want to go that one extra "homemade" step you'll need to add one tempered egg. To do this, take one whole egg and crack it into a separate bowl along with 1/2 tsp of lemon juice, you mix that up and then proceed to take ONE TEASPOON  of soup at a time and mix it into the egg, do not rush this process. You are bringing the temp of the egg up without cooking it. once the bowl feels very warm to the touch, you can then begin to slowly pour the tempered egg mixture into the soup, you will see that it takes on that classic cloudy homemade chicken noodle soup look. Turn off heat and continue to stir often for a couple of minutes before serving. Serve up and enjoy! Great by itself, with crackers, or sandwiches.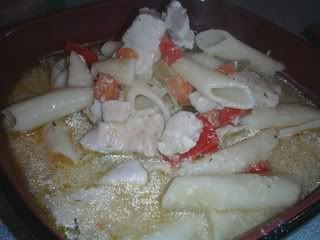 A couple of quick notes. You can add less oil if you would like but, I wouldn't go under 4 Tbs. Also you can add sage or other herbs if you like but, please go a little at a time, nothing worse than to make it to herby (Yes, I've done this.).
Okay, so you may have noticed the "stir, while thinking positive thoughts" mentioned in the recipe a couple of times and thought it odd. The reason that this is in the recipe is because, I believe that emotions can play a big role in how our cooking turns out and how it effects people. If you lack confidence in your cooking, often the food will suffer from it. Where on the other hand, if you are positive about your abilities more often than not the quality of your food will reflect it. I believe the best case of this can be made when it comes to restaurants. Often when you go out to eat now-a-days, your food is being prepared by someone who could careless about the product and is just there to make a paycheck, because of this, the food suffers greatly. Where as, if you go to a restaurant where the chef cares about the food and the way it pleases people, you will find the quality is much better.  There of course is another raw emotional aspect to this as well, anyone who has made dinner when they are mad has no doubt ran into a time when the food ended up tasting bad or bland. Now some could say it was their mood that made them lose their appetite but, I like to think that the bad mood went into the food as well. Same happens for those who are in a rush just to get something on the table because, they feel they have to and it isn't about anything other than consuming fuel. Chances are the food is going to taste neglected or rushed and might be passable but, nothing truly to remember or rave about. So when you think back to all those times when you had grandma's home cooking or mom made you chicken noodle soup when you were sick and how good the food tasted and how good it made you feel, think about this, they were thinking about making people happy or making them feel better with that food and they put their most positive thoughts and hopes into it. I don't expect anyone to agree with me on these thoughts but, I know one thing for sure, when something is made with pride and love, I can taste those secret ingredients.
Written by Tom
Okay so, I have been neglecting some stuff lately, this blog being one of them. I looked it up and found that I haven't done an entry since DECEMBER! I apologize.
Moving on though, it's a new season at our shop and a new season of grilling and BBQ season. Mind you that is the normal people's grilling/BBQing season. Some of us believe it to be a year round sport but, I digress. Things are getting busy in a hurry. I've had a shift change over the past couple of months at my "Clark Kent" job and it has cause the making of BBQ Sauce schedule to be changed as well throwing everything up into the air.  I've decided I am sick and tired of sitting on the fences when it comes to wishing to partake in competitive BBQ and am bound and determined to start really competing. I've acquired a new tank to build a new long-haul-worthy rig with and construction is already underway. It will be unlike anything seen before. Like most people, I'm also sick and tired of working another job and want to be doing BBQ stuff full time, what all that entails yet, I am not sure but, that is the goal at this point.
Another area that I've seriously been lacking is my videos. Considering I made it up to 7 episodes my first go at it. I'm going to call that season 1 and the upcoming ones are going to be season 2. Actually thinking about burning them all on to a DVD if I can find the time. Not sure if they will be for purchase though. My new work schedule has also cause some pains with my recording schedule and when I'm free, my lovely camera operator is not plus, I built a couple of smokers called UDS's and plan on using them and there was some discussion about how much to use them and if I should show a build video. After discussing it, they will be used but, when it comes to a build video, I'm better at explaining food than I am construction. Thinking about still releasing the build video but, it will not be considered a "Deep in the Sauce" episode.
One thing I am excited about is that we are going to be having special demo days at the shop where we will be open one Sunday out of the month and I get to do one of my favorite things, show people stuff to cook and talk grilling, BBQ, and cooking all day.  This is hopefully going to be a lot of fun. There will be in store specials for people and sampling.
There is so much more I want to do, and even the stuff I want to do, I just don't have hardly enough time for.  My new work schedule has really thrown a wrench into entering comps but, at the same time, I'm home every night to be with my family and that absolutely rocks!
I'd say more but, if I did, I probably wouldn't end up writing another entry for another 5 months. Keep checking back and feel free to drop me a line anytime: BigButzOrdering(at)Gmail.com
<< Start < Prev 41 42

43

44 45 46 Next > End >>


Page 43 of 46