Deep in the Sauce
It's about sauce, food, & everything else.
Written by Tom
It's not often that I end up experimenting with two different things at the same time. Usually when I have done this in the past the results have not been as desired. In this rare case I attempted two new things and both turned out very well. To be slightly less confusing, I will go through both items seperately.
First I would like to give you a bit of background on this cook. I was aiming to do some bar style food. Now, the two things that come to mind most when I think of bar food is burgers and deep fried appetizers. Being that is the case, I decided to do some burgers and attempt a twist on one of my favorite appetizers, Deep fried mushrooms. Since appetizers usually come first, that's the one will start with.
Ladies and gentlemen! I give you...
Boomer Bacon Bombs!
(Deep fried, Bacon wrapped, Smoked, Mushrooms)
To make these you will need:
1 Package of small fresh mushrooms (I used button ones.)
1/2 Package of Bacon
Tooth picks
2 cups Batter for deep frying.
You will also need some way of smoking and deep frying.
The ingredients were gathered up. (It was decided by my assistant to leave out the one package of bacon because, she didn't want to use the hot bacon.)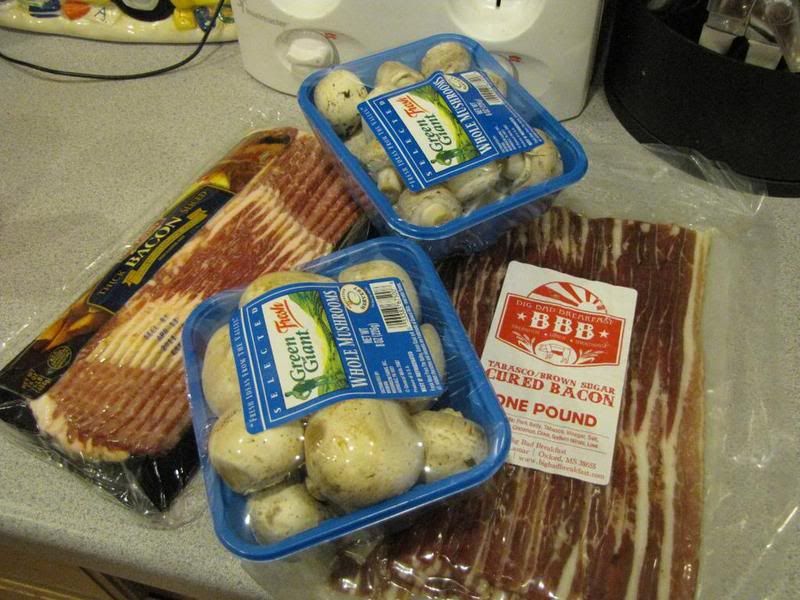 Next the mushrooms were wrapped with half a slice of bacon and skewered with a toothpick to hold them in place. From there it was onto the smoker. (This pic will be replaced with a better one as soon as possible.)
They were left to smoke for around 30 minutes, or until the bacon was crispy. The crispier the better.
A deep frying station was set up. Initially I believe that the batter might not hold with the moisture of the bacon wrapped mushrooms without them first being dredged through flour. I found out that you do not need the dredge as I went along so, just skip that step.
This is the part I like the most when it comes to cooking these. You leave the tooth pick on when you dip it in the batter and then you use a fork to slide it off the toothpick and right into the hot oil. This makes things a lot neater and cleaner.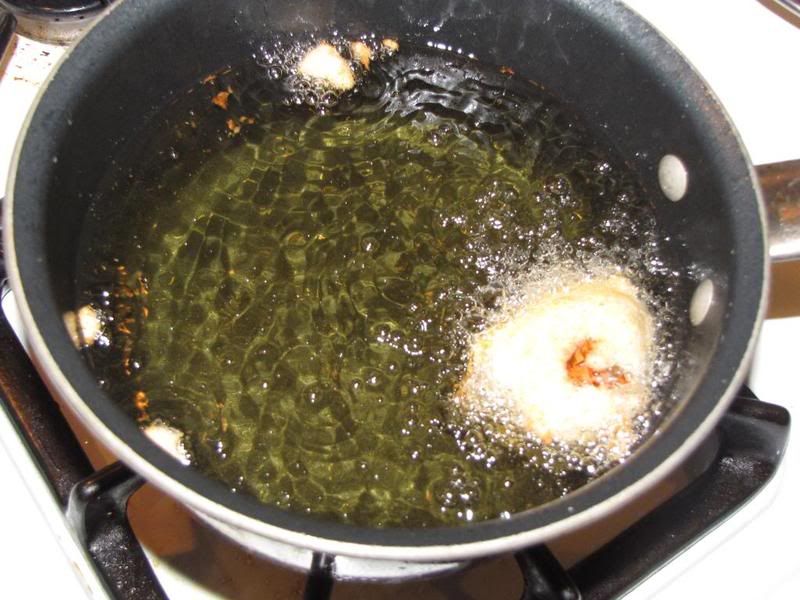 The batter I used was a whole wheat batter so mine appear slightly darker than yours might.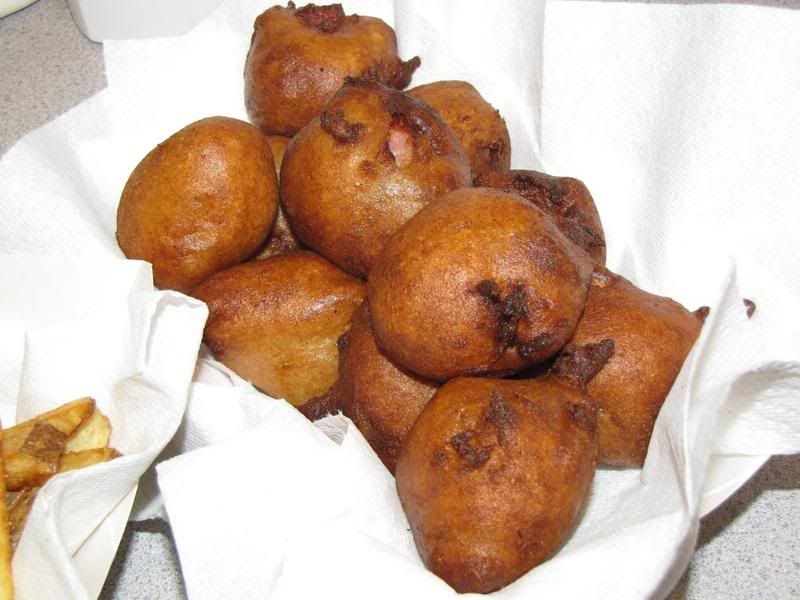 Now the moment of truth! The first bite!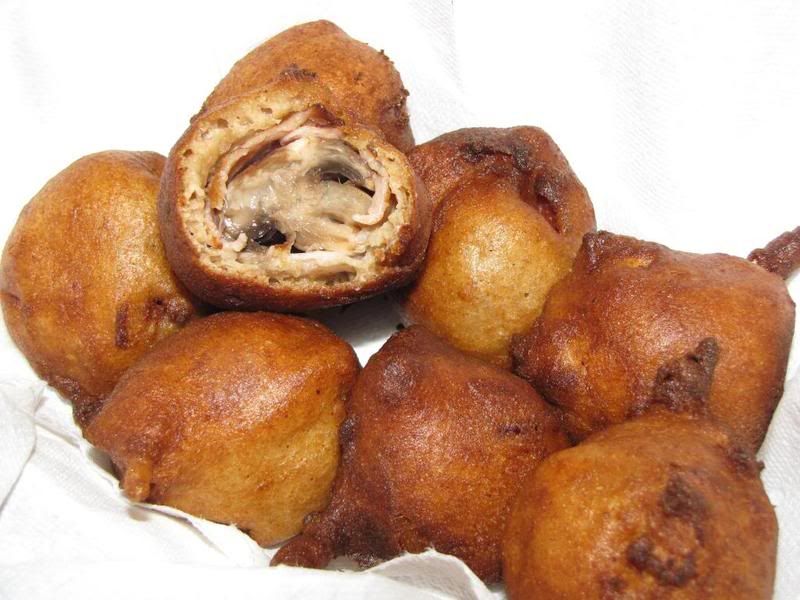 These wicked little things are an awesome appetizer the smokiness of the mushroom mixed with the salty crispiness of the bacon is excellent! I like them best with some ranch dressing or some Butzed up Sour Cream.
Butzed up Sour Cream:
2 Parts Sour Cream
1 Part Big Butz BBQ Sauce
Now when it comes to the standard bar burger, they are usually cooked on a flat top griddle. Now, I'm not going to get into a debate as the best way to cook a burger but, I decided to do something that would blend the grilling world with the griddle world. That's how I came up with the...
Smokey Flat-top Burger!
For these you just mix up burgers like you normally would. The twist comes in the cooking more than anything.
For my burger meat, I went with some sirloin and a couple strips of bacon.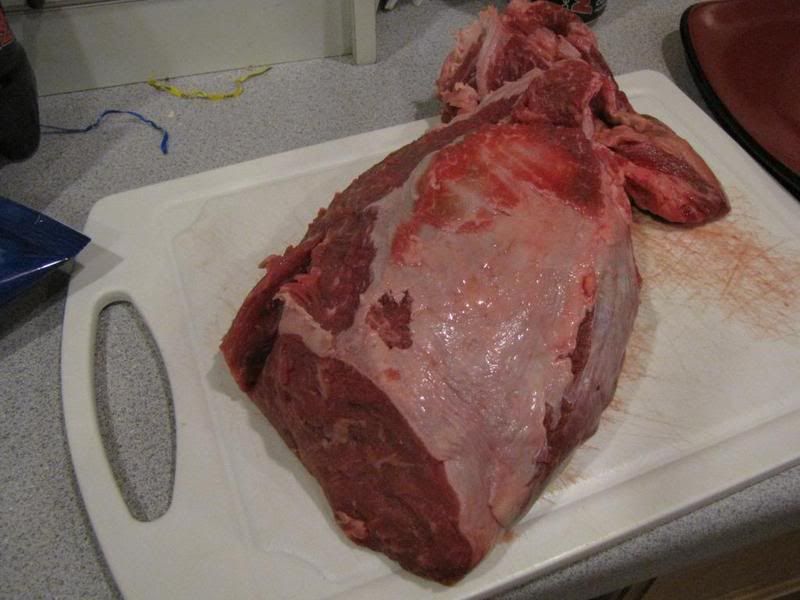 The sirloin got trimmed up and put through the grinder attachment on the Kitchen Aid along with the bacon. My assistant was extremely happy to push the meat into the grinder.
To the meat, I added 1 Tbs of Seasoning salt, I Tbs of rub, and 2 Tbs of BBQ Sauce. I really wanted the meat to shine through and not get overloaded by other ingredients. The trick of these comes into play witht the cooking process. The Weber was set up with the coals to one side, on top of the coals I added 4 pieces of smoking wood. A cookie sheet was then placed on the grate directly over the coals. Now comes the burgers!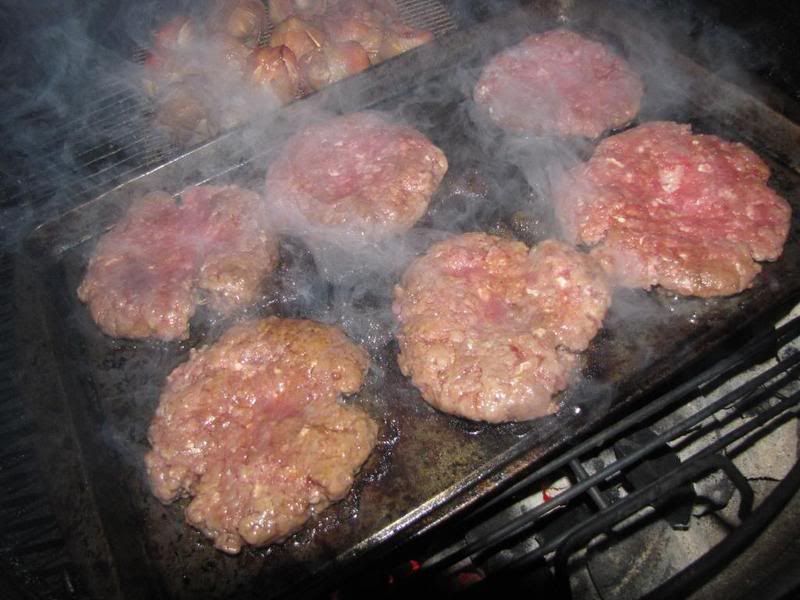 Just like any bar, they were served up on a sesame seed bun with lettuce, tomato, pickle, and cheese. And, some fresh made fries on the side!
These burgers were a huge hit! They had the classic flat top juiciness to them with a nice hit of smoke to go with it. It was like the best of all burger worlds! This might become my new method for making burgers from now on.
Here is the two creations together.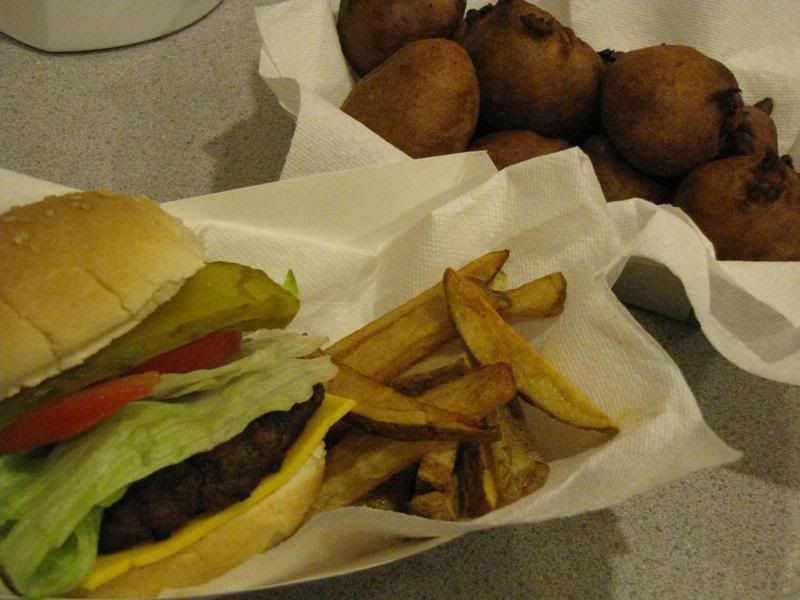 I tell you if every bar had food like this, I'd be looking for any excuse I could to go out to eat! Thanks for looking. Hope you get to enjoy some Boomer Bacon Bombs & Smokey Flat-top Burgers of your own soon!