Big Butz BBQ Sauce
Out of the woods and onto the grill!
Big Butz BBQ Carolina Magic Sauce Mix
What is Big Butz Carolina Magic Sauce mix & Seasoning and how does it work? These are most likely the first thoughts that come to your mind upon picking up a package of our Carolina Magic Sauce Mix & Seasoning. The simple answer is that it is a BBQ Sauce that you mix up yourself. By adding your favorite ingredients to our sauce mix, you can create a Carolina Style sauce tailored to your specific tastes.

You are probably wondering why we didn't just mix up our own version of a Carolina Style BBQ Sauce and sell it along with the rest of our sauces. We could have done this but, when Tom, our head Sauce Maker, looked into making a Carolina Style BBQ Sauce, he realized that to come up with just one sauce wouldn't have done justice to the rainbow of sauces that this area of the country offers. Some Carolina Style BBQ Sauces are almost like straight vinegar with a blend of spices, as you travel down further in the area, they start to add ketchup or sugars to sweeten up the sauce a bit. When you travel even further, they eliminate the ketchup and just use vinegar and mustard, with an occasional addition of sugar or honey. As a tribute to all the wonderfull BBQ Sauce styles of this region,w decided that it only fitting to come up with something that would allow you to express your diversity in taste just as much as they do. It works just as simple as emptying a packet or Carolina Magic into a pint jar; adding your favorite vinegars, mustards, ketchups, fruit juices, or even honey and other sugars; and then shaking it up to mix all the ingredients. The combinations you can come up with are limitless!

Below are lists of different combinations you can do with Carolina Magic Sauce Mix & Seasoning. Some might be considered "classic" style while others may vary greatly from traditional. You don't have to use one of these though, you can create your own mix. If you come up with one you think that everyone just has to try, please drop us an email and let us know. Your mixture could even end up on here!
This is what I like to think of as a classic Mustard Vinegar sauce. This stuff is dynamite on pork and great with brawts.
First, get out your favorite vinegar and mustard to use along with an empty jar and a packet of Big Butz Carolina Magic Sauce Mix & Seasoning.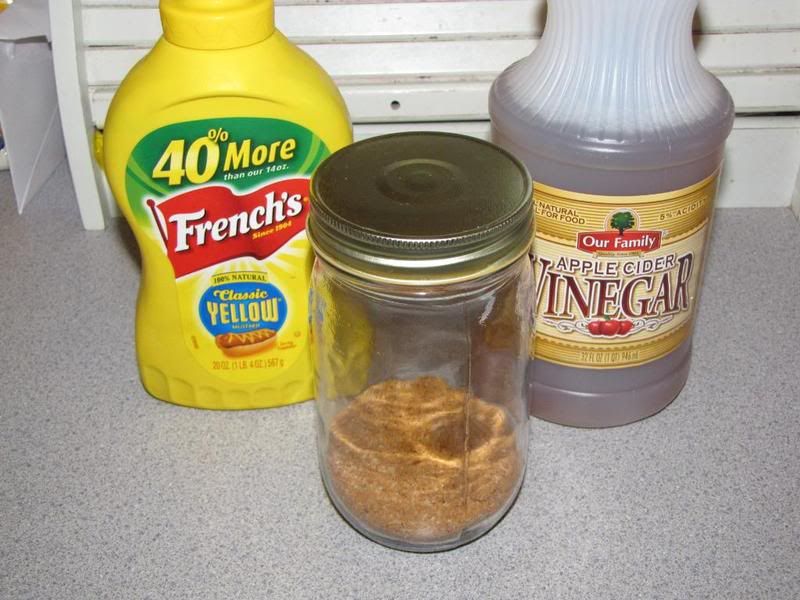 After you empty the Carolina Magic Packet into the Jar, fill the jar half way up with vinegar.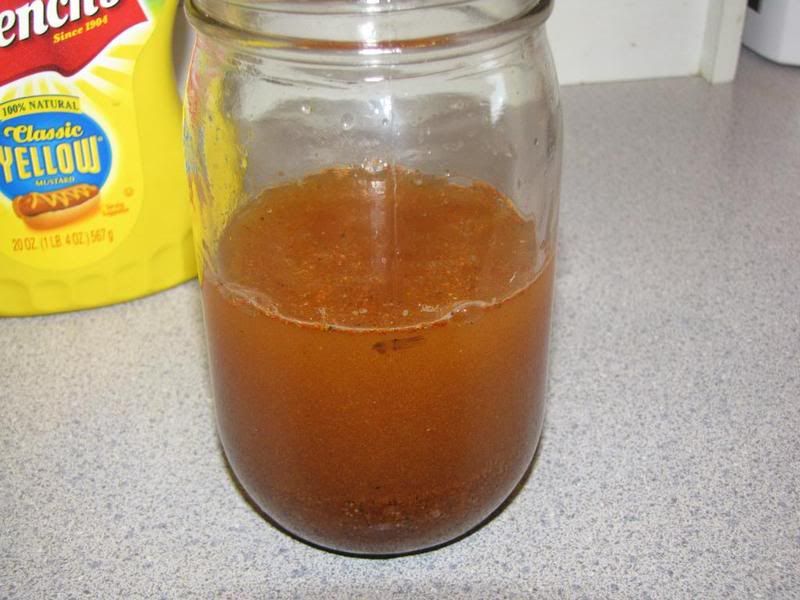 At this point, I like to put the lid on and give the whole thing a shake.


Now, add mustard until the rest of the jar is filled (up to the first cap ring).


Place the lid back on the jar and shake until everything is well mixed.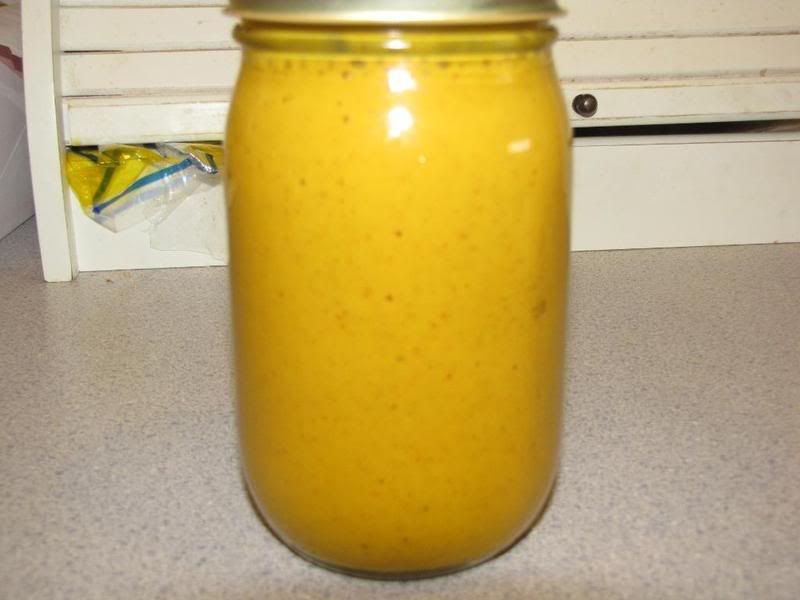 Serve and enjoy! Don't forget to refrigerate afterwards.
Northern Carolina Style BBQ Sauce is little more than vinegar with some herbs and seasonings added to it. It is very strong but really pops with pork. Most might not be able to handle the bitterness of this style but it really does bring a whole new level of flavor to coleslaws, pork roasts, and deli sandwiches.
1. Start with an empty jar, your favorite vinegar(s), and a packet of Big Butz Carolina Magic Sauce Mix & Seasoning.
2. Empty the packet into the jar.
3. Fill the jar up to the cap line with your favorite vineger(s).
4. Place cap on jar and shake until everything is mixed up.
5. Serve and enjoy.
6. Refrigerate afterwards and make sure to shake before each use.
It's been said that if it is allowed to sit overnight, the flavors get even better.
I really couldn't come up with a better name for this variation. It reminds me alot of all the styles of Carolina BBQ Sauces mixed together with a surprising french dressing like taste to it. This stuff is absolutely killer on a pulled pork sandwich and I would use it as a salad dressing anyday.

Ingredients:
Red Wine Vinegar
Apple Cider Vinegar
Ketchup
Mustard
Big Butz Carolina Magic Sauce Mix & Seasoning

Start by marking your jar into thirds then, empty the Carolina magic Packet into the Jar.


Add about a fingers worth, just under 1/3 or a cup of Red Wine vinegar.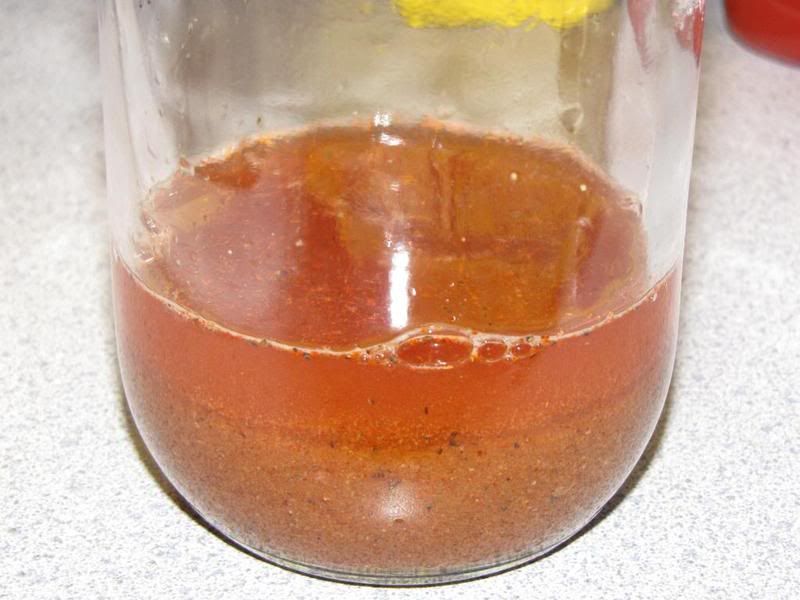 Then add the cider vinegar to make up the bottom 3rd of the jar.


Next, add the mustard to make up the next 3rd.


Then add Ketchup to make up the last 3rd.


Cover and shake well until every thing is well mixed.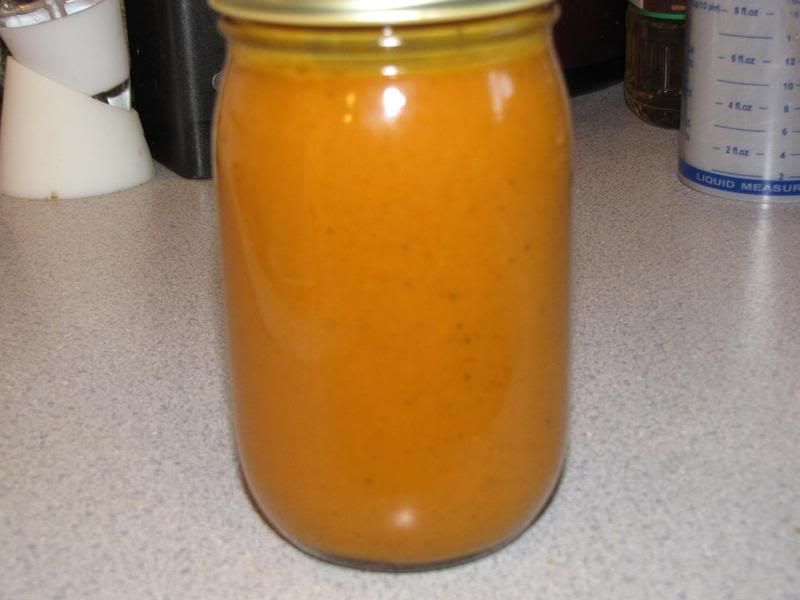 Serve and enjoy! Don't forget to refrigerate afterwards.
This is a mix I recently came up with for a friend when I went to a visit to California. It's designed to be a BBQ sauce style that will pair excellently with asian and fish dishes. It absolutely rocks on raw oysters! It tastes so good I just have to share it.

Ingredients:
One Packet Big Butz Carolina Magic Sauce Mix
Rice Vinegar
White Vinegar
Lemon Juice
Ketchup
Red Boat Fish Sauce

1. Empty the Carolina Magic packet into an empty pint jar.
2. Add 3 Tbs rice vinegar and 2 Tbs white vinegar to the jar.
3. Add 1/2 tsp Lemon Juice to the jar place lid on top and shake contents until it appears to be mixed well.
4. Pour ketchup into the jar leaving 1/4" gap from the top of the curve in the jar.
5. Add 3 Tbs - 1/4c Fish Sauce. Replace lid and shake until well mixxed.
7. Serve on the side as a dipping sauce for seafood or lightly coat meat for final 5 minutes of cooking and enjoy!
This blend was came up with by my good friend Kevin from BubbaStew's BBQ. He made it for a friend of his who used to live on the SC/GA boarder. Looking at the recipe it's alot like a Carolina Mustard style with a Alabama White flare to it so, that's why I'm calling it BubbaStew's Georgia Swing.
Ingredients:
1 Packet Big Butz Carolina Magic Sauce Mix
Apple Cider Vinegar
Plain Yellow Mustard
Miracle whip.
I'll use Kevin's words directly to tell you how to make it.
" in 1 pint jar, install seasoning mix, half fill with your fave apple cider vinegar ( for me) 1/4 of the rest of the way with yeller mustard, then top off with miracle whip!!! "
Just give it a good shake and serve it up from there. I don't know about you but, to me this sounds like one heck of a good blend and is probably really good on chicken as well as pork.
You can catch more of Kevin's thoughts on his blog From The Mouth of Kevin Stewart.