Big Butz BBQ Sauce
Out of the woods and onto the grill!
Did you know?
Our BBQ Sauce is slow cooked for a day before we bottle it bringing out the deepest flavors possible!
Newsflash
Got a great recipe using Big Butz BBQ Sauce or a new idea you think someone should try out? Let us know!
Big Butz BBQ Sauce - Flavors
Written by Tom
You can't spell Original without the word origin and this is where they all began. This is a great all around sauce. We like to think of it as the perfect utility sauce. It works with any meat you can bring to the plate. Not only is it good for coating or dipping but, alot of people enjoy cooking with it also, using it as that "secret ingredient" in their favorite recipes. It's tangy and sweet with a nice warming heat. Enjoy some with your next meal today!
*Listed as 1st by Country Living Magazine as one of the Best Small Batch Sauces in the Country 2011-2012*
*Winner of National BBQ Association 2nd Place in "People's Choice" 2012*
*Winner of Gettin' Sauced 2nd Place in "Tomato - Mild" 2011 in Austin, TX 2011*
*Reciever of 5/5 stars from BBQSauceReviews.com* 
Written by Tom
Hot is the second flavor that was developed. People loved the great taste of our Original BBQ Sauce but, they wanted some more heat. So we gave it to them! Same great tangy sweet taste as the original but with added heat. This is my personal favorite to use when cooking meats for long periods of time. It brings out those nice flavor balances in the end product plus, I like it hot. For those of you looking for that same great taste but with a bit of fire this is the sauce for you.
Written by Tom
This is the BBQ Sauce for those who cannot get enough heat. This one gets to be so strong that when I'm cooking up a batch I have to use a gas mask! I've heard that this is a great alternative to the regular old Hot Wing sauces, giving a nice sweet and smokieness in the background instead of just overwhelming heat. For those of you who crave the fire, this is the one for you!
Written by Tom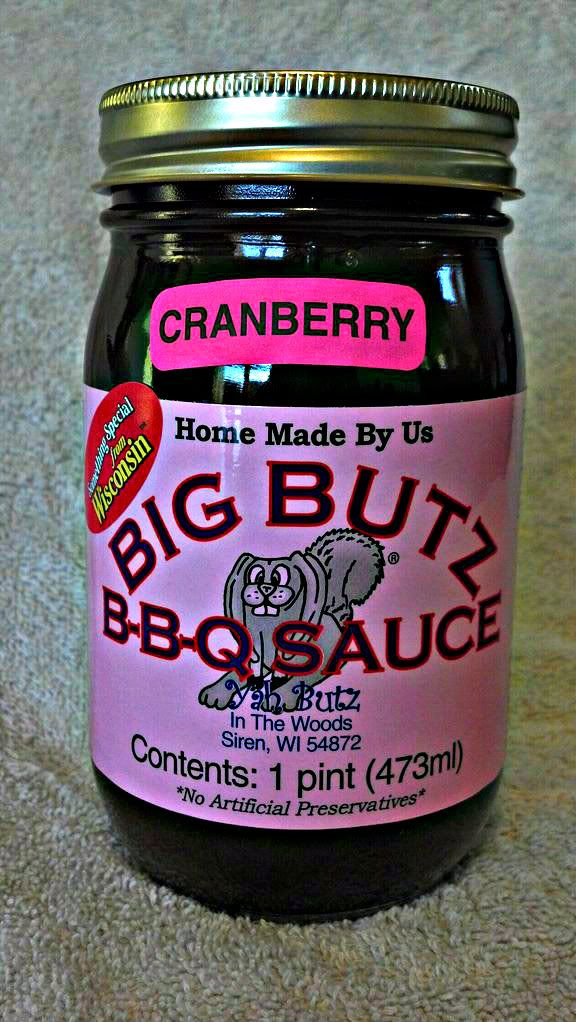 Next to our Original, Cranberry is our most popular flavor and with one taste you'll understand why. In comparison to our Original BBQ Sauce, our Cranberry is slightly sweeter with added tangy and fruity undertones.  The cranberry flavor is meant to enhance and compliment the BBQ Sauce flavors and not overwhelm or appear to be nonexistant. This delicate balance of flavors will leavie you wanting more. Great on pork, chicken, or other lighter meats get some today!
*Winner of National BBQ Association 4th place 2012 "Tomato Mild" division*
*Winner People Choice and Judges Choice used on Ribs for Chetek Brew and Ribfest 2009 & 2011*
*Winner 3rd Place in  Honky Tonk BBQ Festival in North Platte, NE 2012*
*Receiver of 5/5 stars from BBQSauceReviews.com* 
Written by Tom
"No Butz" might sound like an odd name but, once you taste this sauce, you'll know no buts about it, this is one severely hot BBQ Sauce. We've taken all the great flavor of our Original BBQ Sauce and added tons of heat with lots of peppers, one of those being Bhut Jolokia AKA: The Ghost Pepper. This one has been quickly becoming a favorite with those that love heat. The heat plays well with the sweet smoky flavors of the sauce causing people to find it hard to put it down. This sauce also has the added benefit of getting hotter as it cooks so when you really want to feel the burn this one is for you!
*Winner National BBQ Association 6th Place in "Hot Sauce" 2012 (That's right this is stuff is so hot it can stand up as a Hot Sauce and not just a BBQ Sauce.)*