Big Butz BBQ Sauce
Out of the woods and onto the grill!
Big Butz BBQ Seasonings
"Season All" should mean just that. in the case of our Gettin' Roasted Season All, this is absolutely true. Whether it be meat viggies, sauces, or doughs and much, much more, Gettin' Roasted has got it covered. When asked what it tastes like, the thing we tell everyone is that it's like any other seasoning salt you've every tried but, with an agressive side. The flavors of this are full and proud but, are designed to meld well with anything. The name may seem strange but it comes from good reason. This Seasoning was created when Tom was working on creating a new rub specifically for roasts. He wanted to come up with something that had the great bold flavors of our Cow Pow but, had the great universal tastes of our Chicken Dust and work great with large chunks of meat. We managed to succeed but, happened upon this happy accident of crating a fantastic Season All along the way. We've spent some time working on this and now that we've got the blend balanced just right we are proud to be albe to share it with you. Gettin' Roasted Season all comes in 5 oz packets.
Pork has to be one of the most versatile meats there is. Not only does it have a great naturual flavor but, pork works well with just about any spie or seasoning. That being the case, Pig Pollen was created to bring all these great traits to the pork party. First thing you notice is the sweet followed by a nice hit of heat all built off of a salt and herb base. Pig Pollen is great for Pork Roasts and other large pieces of meat but, it works equally as well on smaller cuts, like pork chops or stir fry chunks. Pig Pollen comes in 6 oz packets, easily enough for 2 Pork Butts, contains no MSG, and goes well with any of our sauces.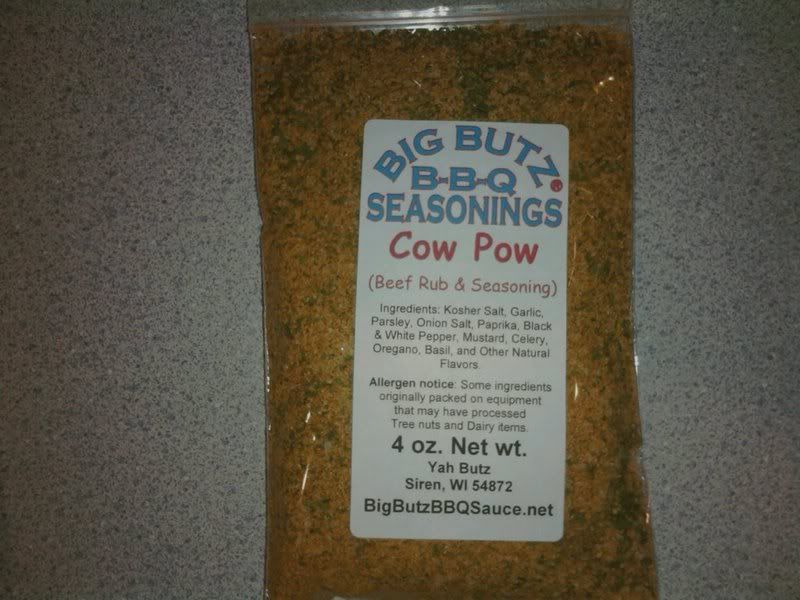 When it comes to cooking beef, sometimes you have to take the bull by the horns and show it who is boss. Our Cow Pow (Beef Rub & Seasoning) is designed to do just that. With bold hits of Garlic, Kosher Salt, Peppers, and other beef loving herbs and spices, you are guaranteed not to go wrong with this one. While some meats demand subtlety in their spices, beef is one stubborn animal and it needs seasonings that aren't afraid to stand up to it. Don't be afraid of the power of this spice though, as it cooks it works it's way deep into the meat and marrys together with all the wonderful flavors that beef has to begin with to create a match made in taste bud heaven! It comes in 4 oz packets and contains no MSG. We've found that one pack is about enough for one brisket.
Chicken is one of the most delicious creatures there is. With that being the case, why cover up it's deliciousness? Our Chicken Dust was created with a blend of herbs and spices that help bring out all of chicken's deliciousness. With hints of sage, lemon, thyme, and celery along with other select flavors this seasoning will make your chicken kickin'! True to it's name, all that is required is a dusting of this special blend on your chicken. With this on your chicken you might find that it's so good it doesn't even need BBQ Sauce!Although it does go extremely well with an of our BBQ Sauce Flavors. Available in 6oz packages with No MSG or artifical flavorings or ingredients.